This is an article about a movie that I rather like, but it is also about how not to write a film review.
I am werewolf, hear me roar… No, I am sure I remember that name of that daft Helen Reddy song all wrong, but that does seem to be the message of a review of Underworld in the Sierra Times by the colourfully named RadioFree Rocky D… this movie is just a pinko feminist tract.
To which I say… nonsense.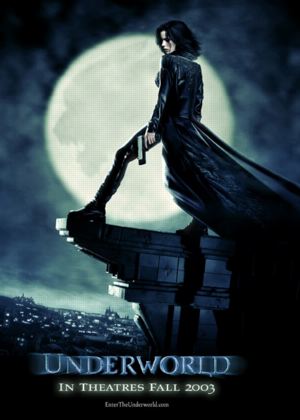 Underworld, the film in question, is in essence a version of Romeo and Juliette, but set against the backdrop of a war between not Montagues and Capulettes, but a clan of werewolves and a clan of vampires! This has everything for the trash movie aficionado: monsters, perpetual gloomy atmospherics, high tech weapons, chick-in-latex-with-guns (the breathtaking Kate Beckinsale)… need I say more? As an extra added bonus, it even has a decent and fairly complex storyline!
The review on the worthy Sierra Times dislikes this movie because it was being 'politically correct':
Women and men are physical equals. Anything a man can do, a woman can also do. Anyone who points out that men are physically stronger than women should be forced to undergo government-sponsored sensitivity training. Worse yet, telling the truth just may be sexual harassment. I know this, because Hollyweird tells me so.
I'm guessing that Beckinsale weighs in at a whopping 115 pounds – including her bootiliscious leather getup and her ho' boots. I warm up with more weight than that. Be-otch come near me, and I'll squish her. Good thing for her she carries twin Glocks.
Well for a start Selene, Beckinsale's character, does not go mano-a-mano with the werewolves when she can avoid it… in fact she runs like hell to put some distance between them so she can shoot the hell out of them with silver bullets. And for another, she is not a 115 pound woman, she is a 115 pound immortal vampire, so why the hell should she be constrained by the limitations of a normal woman? I am sure that mighty jock RadioFree Rocky D could kick Kate Beckinsale's delectable behind, but I doubt he is bulletproof regardless of how much weight he warms up with, so who cares?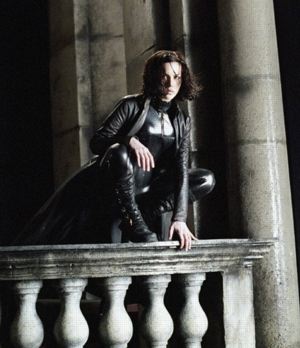 The fact she casually steps off a ledge 20 floors up is a
fair indication the movie does not expect you to see
Selene as a feminist representation of 'everywoman'
But then the review gets really weird:
More PC oozes out when someone wonders aloud, "Who started this war …?" This is Hollyweird's way of saying that all wars are stupid and meaningless. Nothing could be further from the truth. Tell any veteran the war he fought in was for nothing, and you'll get a face full of knuckles – and you'll deserve it. Hollyweird has its hate-America-first panties in a bunch over the fact that President Dubya was the man at the helm when our troops totally stomped Saddam's jackbooted civilian-killers into the sand. Where were the liberal's objections when Weak Willie was Presidunce and sent troops to Bosnia, Somalia, Rwanda and Haiti? Where were the socialist street protests then?
Huh? Now I quite like the Sierra Times and no doubt RadioFree Rocky D and I would probably agree on a great many issues (I was an outspoken supporter of the armed overthrow of Ba'athism in Iraq for example), but this review is what happens when one's ideology starts to distort everything one sees. That paragraph seems to suggest that to question the legitimacy and sanity of any war makes you some pabulum puking whining pinko. I guess RadioFree Rocky D must have thought any Russian who questioned the wisdom of the Soviet invasion of Afghanistan was some sort of weak kneed girly-boy.
And from this position he takes the view that questioning the wisdom of a war between vampires and werewolves is somehow criticism of the US/UK invasion of Iraq. Funny but I must have missed the 'No Blood For Oil' speech coming from one of the vampires (vampires… blood… get it? Oh never mind).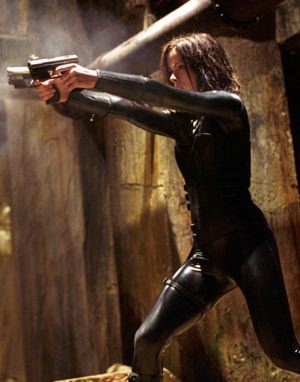 Use GUNS when fighting werewolves!
Anyway, this review tells us a lot about the author who rejoices in the name of 'RadioFree Rocky D' but tells us jack shit about the movie called Underworld… which happens to rock big time.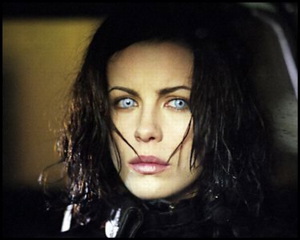 The ayes eyes have it!