In these times of EU corruption, Blair government corruption, and generally just Prodeus Romanus, the ancient latin God of Corruption, having a whale of a time all over the place, I thought today I might have a day off from being Disgusted, of Henley-on-Thames. After all, it is Friday. That, and I'm on holiday next week, though only, I may hasten to add, stripping off bathroom wallpaper, organising children's birthday parties, and wandering down to Henley library to re-invigorate my audio book collection. (Hey, I've paid the poll tax. I may as well get my money's worth!) And just to lighten my mood even further, and to set the stall out on what is going to be a great weekend ahead, I saw this headline this morning in the Daily Torygraph:
Doctor Who ready to come out of the Tardis for Saturday TV series
Fantastic news! After having spent one of the most memorable moments of my childhood cowering in total abject fear literally half-behind the sofa at the sight of that Sea Devil, as it strode out from the surf, it's about time too.
Doctor Who will be back in 2005, and I for one can't wait. Let's just hope the new scriptwriters can find room for Tom Baker to play some senior Time Lord, or other, maybe even a portly grey-haired version of The Master? Though I must warn these scriptwriters, in advance: if the first series isn't about the Daleks, or the Cybermen, or some kind of evil giant arachnid, then there'll be trouble. And not the kind of trouble you have when the plumbing goes wrong, but serious Davros-style trouble. Indeed, the fate of the Universe may hang on it.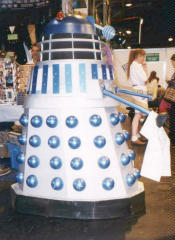 Photo: D. Amon, all rights reserved