When Hong Kong was handed over to Communist China by the British state, to much joy and acclamation by credulous Chinese and Gweilos alike, the totalitarian gerontocracy in Peking pronounced soothingly that Hong Hong would retain its relatively liberal order under a doctrine 'One nation, two systems'.
Tens of thousands of people have marched in protest at a planned anti-subversion law aimed at an EU style 'harmonizing' of Hong Kong law with that of the rest of Communist China. One nation, one system it would seem.
…the government is pushing through the national-security legislation, known as the "Article 23" measures, too quickly, and without enough public debate. The proposal is in many ways an attempt to bring Hong Kong's laws regarding subversion, treason, sedition and the theft of "state secrets" in line with China's.
Well it comes as no surprise to me that these patent lies only took six years to be revealed. I look forward to hearing the people who rejoiced at the surrender of Hong Kong's people to China recanting their folly. I am not holding my breath however.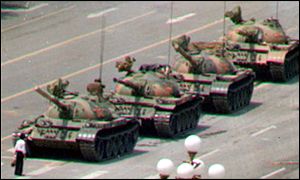 The Chinese way of dealing with effective protests
(WSJ link via Combustable Boy)