After recovering from the revelries at the blogger bash, there was no better way to unwind than enjoy a trip down to Greenwich, east London, and wander around the superb clipper sailing ship in dry dock, the Cutty Sark.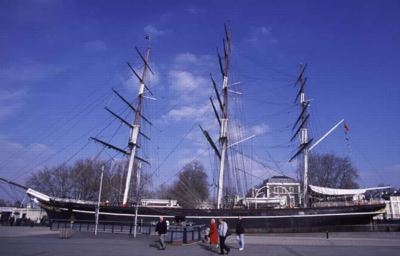 This three-masted, square-rigged jewel of 19th century sailing technology was built to carry goods like Chinese tea, Australian wool and other products at high speed to London. The vessel that could moor up at the great port of London ahead of the competition would get the best prices for its produce. These great beasts of the high seas were sailed with the kind of white-knuckle speed and skill that would put a modern America's Cup yacht race to shame. They often frequently would beat steam-driven vessels over comparable distances.
When we think about today's rows about globalisation it is easy to assume that so many aspects of economic life are new. They are not. Our Victorian forbears already conducted trade on a vast scale. Ships such as the Cutty Sark commonly had cosmopolitan crews from countries across the world. There were very few regulations governing who could join up as a merchant seaman.
Of course, many aspects of life have improved since then. I dread to think what it must have been like to climb aloft the Cutty Sark's mainmast in a gale to reef in a sail with the ship rolling about – and you can forget anything like safety harnesses. But these men enjoyed an enterprising life which at times makes yours truly almost feel quite jealous.