Due to the high risk of an embarrassing misunderstanding here, I think it behoves me to start off by advising our American readers that, in Britain, the word 'fags' is a slang term for 'cigarettes'. It is not generally perceived as having anything to do with homosexual men.
And this is important because cigarettes are no longer just 'fags' or even 'smokes'. Now, they are symbols of defiance as well.
For the past two decades or so, tobacco manufacturers have been forced to print hectoring health warnings on cigarette packets. But now, due to a directive from Brussels (where else?) manufacturers are required cover at least half the space on both the front and rear of the packet with even more lurid warnings. It is the kind of useless, paternalistic gesture that enables the European political classes to posture self-righteously at someone else's expense.
At last, though, someone is fighting back in the form of a website called 'Fake Fags' through which you can purchase waggishly irreverent stickers to cover up the politically-mandated health warnings on your cigarette pack.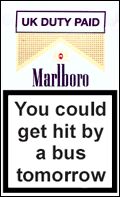 It is a delicious act of subversion and, predictably, it has sent the reactionary health fascists into a blue funk:
Deborah Arnott of anti-smoking group ASH criticised the labels.

"These labels do not strike me as being funny," she told BBC News Online.
Well they strike me as hilarious and I am very heartened that at least some of my compatriots are not prepared to throw in the towel just yet.