Once upon a time, there was a group of states within a larger nation who did something terrible…they allowed slavery. Eventually there was a dreadful civil war between those states and some other states who did not approve of slavery. Although the war was only incidentally about slavery and rather more about centralised versus decentralised power, it did at least have the happy effects of ending slavery.
The National Flag of The Bad Guys: The Stars and Bars!

The flag which The Bad Guys flew in battles
How do we know they were 'The Bad Guys'? Because of slavery, of course, but mostly we know this because they lost and the winners get to write the history books.
So much later, after the war was over, one state used a flag which harked back to the old battle flag. They argued that most of the people who fought in that war from their state were just fighting for hearth and home and very few of them actually owned slaves anyway. Regardless, those days were part of their history and they rather liked their old flags.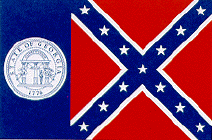 Oh no…Echos of The Bad Guys!
This upset some people mightily and they threatened economic boycotts and all manner of other nastiness if the state did not change their flag to remove the symbolism of The Bad Guys of Old.
So the governor said people could vote on this, but then decided that no, actually, they couldn't, or maybe they could… but in the mean time, here is a splendid new flag and will you leave me alone now?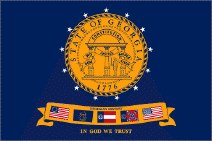 The Flag Spangled Banner?
So folks stopped for a moment, looked at this new flag and agreed that it was just about the dumbest, ugliest dish-rag to flap over the state capitol ever. "Screw that!" they all cried, and so the arguments continued to rage.
Eventually however, they agreed to another splendid brand new flag and everyone was happy because this new flag does not look anything like the flag used by The Bad Guys of Old, right?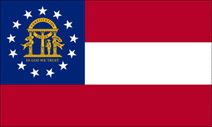 The State Flag of the Good Guys: The…er, um, ah…Stars and Bars
Those Americans… who says they have no concept of ironic humour? You just gotta love 'em.