On tonight's TV show 'Who Wants to be a Millionaire?' a contestant was asked "Who in 2002 became known as 'The Quiet Man' of British Politics?"
The contestant – an attractive if not terribly bright brunette – was offered four choices:
John Prescott

Kenneth Baker

Edward Heath

Ian Duncan Smith
She had no idea. She used her 50/50 lifeline which left her with Baker and Duncan Smith. She slightly guessed the latter but felt she needed to call her father. He promptly said: "IDS".
Last year a programme on the same game show asked a father and son who the leader of the Conservative Party was. The programme was recorded the day after Ian Duncan Smith made his first speech as leader of the Conservative Party at the Party Conference. The son said "I haven't a clue", the father thought it might be Kenneth Clarke. They asked the audience. A minority knew the answer. Finally they called a friend and got the correct response, although on that occasion the friend wasn't so sure.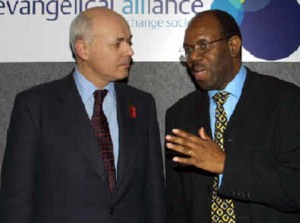 One of these blokes is the leader of the Conservative Party… apparently.