Modern Architecture just gets better and better – although when you think how bad it was three or four decades ago this has not been hard to contrive. It looks as if I will be writing about new London architecture a lot on my new Culture Blog, and my most recent post there is about a superb new London building that is now nearing completion.
This is 30 Saint Mary Axe, formerly know as the Swiss Re Building (Re meaning Re-insurance), and still known unofficially as The Gherkin, which is a bit unkind because it is a deal more elegant than that, I think. My congratulations to Sir Norman Foster and his partners. This elegant new tower makes a distinctive contribution to London's skyline, and is just as impressive close up.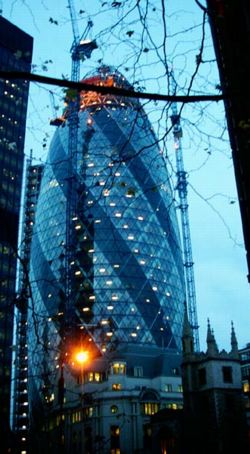 I know that these things are a matter of opinion, but I think that this building is extremely beautiful. I also believe that the chances – on the whole and with many exceptions – are improving all the time that the next big new building where you live will be likewise. It didn't use to be at all like this, but now, it is.
Why all this beauty, all of a sudden, and in a style that used to be the very definition of brutish ugliness? Big question. Short answer: they are now, at least, trying to do beauty.