America is to award the Congressional Medal of Honour, the equivalent of the Victoria Cross, to a British Special Boat Service (formerly Special Boat Squadron) commando who led the rescue of a CIA officer from an Afghan prison revolt.
It will be the first time the medal has been awarded to a living foreigner. The Queen will have to give permission for the SBS soldier to wear it.
The SBS senior NCO led a patrol of half-a-dozen SBS commandos who rescued a member of the CIA's special activities section from the fort at Qala-i-Jangi near Mazar-i-Sharif, last November. The fort was holding 500 al-Qa'eda and Taliban prisoners, many of whom had not been searched and were still armed.
An exchange of fire developed into a full-scale revolt and two CIA officers who had been interrogating the prisoners were caught in the battle in which one was killed. The uprising went on for three days and the SBS commandos remained throughout, bringing down aerial fire to quell the revolt.
The battle was one of the most contentious episodes in the war last year with human rights groups raising concerns over air strikes against prisoners, some of them unarmed.
The eagerness of the Americans to recognise the courage of the NCO contrasts with suspicion within the regiment that two SAS soldiers being considered for VCs for an attack on the al-Qaeda cave complex will not get them.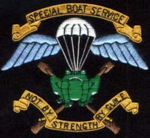 Not by strength, by guile