Michael Jennings tackles, albeit only in passing, one of the late twentieth century's most enduring and to many most mysterious of questions: why did Molly Ringwald, given the excellence of her performances in such fine movies as Sixteen Candles and Pretty In Pink, never make it as big in the movies as she should have? Why, from the late eighties onwards, was the Ringwald career ride mostly down hill?
I think I can throw some light on this problem.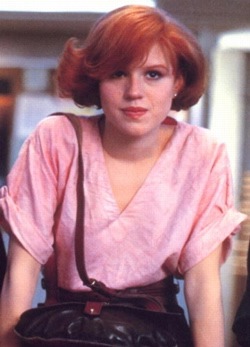 Molly then
Ms. Ringwald was a totally convincing and attractive teenager, certainly from where I was sitting. However, she did have one drawback. She was one of those females who, through no fault of her own, gives the impression of being just one misfortune away from bursting into tears. In a teenager this quality is tolerable, even endearing. Why can't those bigger boys see what a fine and sweet girl Molly is? Why are those rich bitches from the posh side of the tracks being so nasty to Molly? Poor Molly. Somebody do something. You, handsome rich boy, dump your shallow girlfriend and give Molly a ride in your red Porsche. And as for you Andrew McCarthy, for once in your life show a bit of backbone!
Unfortunately for Molly, however, as teens turned into twenties, and then thirties, and then whatever the lady is now, she still gives off the same victimhood vibe, and whereas this used to tug at the heartstrings; now, on those rare occasions when we still witness it, it merely gets on the nerves. What had formerly seemed innocently melancholy – an artless appeal for aid and comfort – now seems frozen into a manipulative routine that ought to have been caste aside. Girl-girls are fine, one of nature's greatest bounties. But girl-women? Let's just say that this is the kind of thing that has to be done right. So when Molly the Woman hove into view, still with the exact same lacrimosity threat problem, the reaction was: Grow up woman. Stop your whining. This is not the stuff of which lady film stars are made.
Molly now
Please understand, Ms Ringwald (after all we're talking about a woman who may now have time on her hands and could well be reading this – especially if she thinks she might learn from this posting how she could become a movie star), please understand that I am not offering a personal criticism of your personal qualities, which are probably not at all as I have described them. I am talking about your screen persona, the way you come across in the cinema, in front of the cameras. You come across, on screen, as one of life's victims, and what is worse as a victim not so much of circumstances as of an inadequately developed character. Sorry, but there it is.
(It occurs to me that another bratpacker of that vintage and another would-be movie star, Rob Lowe, now to be seen in the political TV drama "The West Wing", has suffered in recent years from a rather similar problem. Coming of age, beautiful. Come of age, not convincing. Not the finished article.)
But please understand also, Ms. Ringwald, just how fabulous you were in your all-too-brief years of glory. Sixteen Candles and Pretty In Pink are two of my all time favourite movies.
Remember the days when I was going on here about Brian's Education Blog, but when there was no actual Brian's Education Blog to go and look at. Well, now there's another Brian Blog opening up Real Soon Now: Brian's Culture Blog. I had been saving this posting or something like it for that. But when Michael opened up the Ringwald issue over at his place I decided that my analysis of this should be made public, now, and of necessity here. I hope that was the right thing to do. As for what's holding up BCBlog, I won't mention any real names but will say that the Atlas who carried the load so manfully when BEdBlog was getting started seems, temporarily, to be shrugging.