Computer games are evolving at an astonishing rate, acting as the primary driver of desktop computer development (after all, how many people actually need a 2.5 GHz CPU, a 128 Mb graphics card and 512 Mb of RAM to do word processing and spreadsheet work?)
Back in the Paleolithic age of computers (the 1980's), computer games looked like this…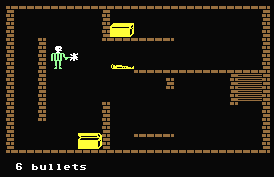 Wolfenstein: Shoot! Mild fun… but not for long
Mildly amusing but crude in the extreme. By the early 1990's however, came the advent of the 'FPS': the First Person Shooter!

Wolfenstein 3D: Shoot! Great fun… but not for long
They seemed astonishing at the time, actually putting you inside the gun wielding hero. The graphics were rather basic, to put it mildly and after a while the lack of multifaceted interaction tended to make the games rather tedious after the initial 'gee whiz' factor wore off… other than opening doors, the only way to interact with things was to shoot at them.
My goodness how things have changed!
Wolfenstein 3D begat Doom, which begat Quake, Hexen, Marathon, Unreal, Duke Nukem, Tomb Raider etc, etc… all worthy 'shooters' of steadily increasing graphic quality.
Sudden surges came with games like Half Life, released at the end of the computer games neolithic era (1998) and yet still playable now…and featuring not just excellent graphics but Artificial Intelligence which actually shows a bit of intelligence, rather than just a desire to commit virtual suicide… Half Life & the spin-offs Blue Shift and Opposing Forces brought also the ability to 'talk' with the computer generated denizens of the game as opposed to just shoot at them.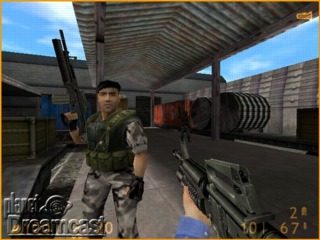 Half Life: Don't shoot, he is on your side.
Great fun… for hours on end!
Then games like No One Lives Forever (NOLF), a spy thriller set in the 1960's with frequent plot specific cut scenes came along, and suddenly the story line of the computer game actually started to matter.

NOLF: Cate Archer, at the grave of her 'dead' mentor
The next generation of releases saw the success of story intensive NOLF and soon games of almost cinema grade plot and characterization started appearing, such as the conspiracy ladened Deus Ex and then the gritty darker than dark Max Payne.
And so yesterday the new Gamespy PC Game of the Year was announced, and it is the excellent No One Lives Forever 2.
As well as being superb graphically (caveat: you do need a high spec computer to get the best out of this game), it is just down right funny! Set in the 1960's, this 'spy shooter' owes more to the wonderfully camp 'Man from U.N.C.L.E.' than James Bond or Smiley's People. Although slightly more 'serious' than Austin Powers (but only slightly), it provides endless entertainment by allowing you to eavesdrop on the all-too-believable conversations of other people.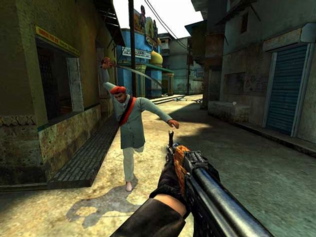 NOLF2: This Indian H.A.R.M. agent has a sword…
but Cate has a Kalashnikov
I look forward to continuous progress in computer games… pure distilled essence of capitalism married to explosive creativity. Within a few years, interactively with the virtual environment will be almost total, opening up steadily more ambitious story telling possibilities whilst at the same time the holy grail of photorealism comes closer to realization. The future is so bright, we are going to need shades to see it. I can hardly wait!