Next Sunday I expect to be headed with a crowd of French libertarians, from the place de la Bastille towards the headquarters of the French finance ministry at Bercy in the eastern districts of Paris.
Interest in the event seems to be building up, with emails buzzing around asking for a lift from places like Pau (almost in Spain), or has anyone got a couple of flag poles? The Gadsden and the Culpepper flag should be flying.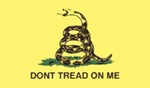 Meanwhile, in London, not a sausage.