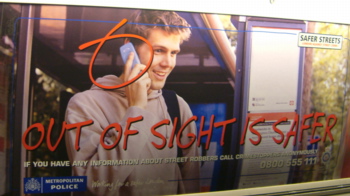 This poster can be seen all over London. In it a young man standing at a bus stop chats on his mobile phone, a sight one sees all the time on London's busy streets.
What the Metropolitan Police are saying is that doing this, talking on a mobile phone in London, in public, is unwise behaviour. Okay, fair enough, London is a big city and all big cities have their fair share of street crime, so what is the problem with this message from the boys in blue?
The problem I have is that this poster is not warning criminals who might attack us and steal our phones of the sure vengeance of the law. Not it is calling on us all to refuse to tolerate thieves in our midst and to resist to the best of our ability. Hell, how about suggesting "if you have a mobile phone in your hand and you either witness a mugging in progress or think you are in danger, dial 999 and the Police, whose paychecks and cars with flashing lights come from your taxes, will come rushing to the rescue".
No, it does not say that at all. The real message here from our appointed protectors is not "we will protect you from crime" and certainly not "protect yourself from street crime", but rather HIDE from street crime.
OUT OF SIGHT IS SAFER
The state cannot protect you, it will not permit you to protect yourself effectively, so all it can do is offer advice… and the advice is hide. Do not show anyone you have something worth stealing. I expect we will soon see posters across London saying "it is safer not to wear Armani suits, you might get mugged" and then "don't wear short skirts, you might get raped" and finally "don't go out at all, the streets are not safe".
Perhaps when the state has taxed everything and we no longer have anything left to hide, we will indeed have 'safer streets'.
The state is not your friend.