Crime seems to be a flavour of the day in the UK. Today a battle plan to fight crime was unveiled by the government in the Queen's speech opening the new parliamentary year. And a new advertising campaign was launched on Monday by the Metropolitan Police Service named "Help us cut out hate crime".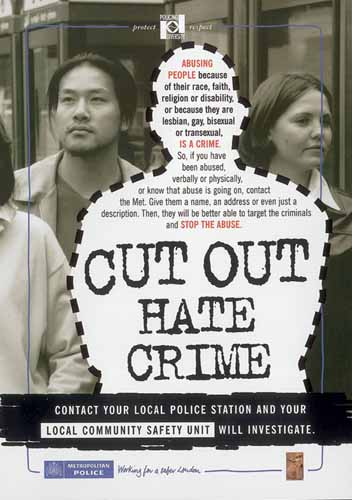 I noticed such posters on Monday and at first I thought they were designed to change the attitudes of the potential perpetrators of hate crimes by yet another 'awareness' campaign. (The New Labour seems to be very fond of 'awareness' campaign managing to spend prodigious amounts of tax-payers money on pointless and expensive advertising.) My immediate reaction was that of incredulity that anyone could imagine that plastering posters on the Underground would change anything, let alone someone's bigoted and hateful opinions. Or do they believe in subliminal advertising?
No, the truth is far less subtle – the campaign urges victims of hate crime or those who have information about it to come forward. A name, an address or even a description of offenders will enable police to target criminals and stop the 'abuse'. Adverts will appear in newspapers and in a number of gay, ethnic and disabled press titles, and on the Underground. There will also be a hate crime and domestic violence radio campaign as well as posters appearing on washroom panels, the underground, and on trains.
Yes, it may seem a good thing to encourage victims to come forward. But that would be more effectively and properly achieved by restoring our confidence in the criminal justice system by making sure that criminals are arrested, sentenced and jailed in timely and effective manner and that victims are not ignored or forgotten in the process.
The effect, if any, of the campaign will be an atmosphere of paranoia at the local community level. Abuse of the system will ensure that. Imagine the trouble you could cause to a neighbour you dislike by simply reporting on him for alleged domestic violence:
"reported cases of hate crime and domestic violence received by the MPS will be, where appropriate, passed to local Community Safety Units (CSUs) for investigation, otherwise handled by local borough police."
But the scary bit is the bit about the hate crime itself, defined as abusing people because of their race, faith, religion, or disability, or because they are lesbian, gay, bisexual or transsexual. The danger is in the shift from the emphasis on one's actions that can be classified as criminal acts – murder, rape, theft etc to an entirely different and vague area. Yes, it says 'abuse' but so does 'substance abuse' and nobody is encouraging drugs to come forward to report on their junkies. Suddenly, the crime is in the eye of the beholder and although it is correct that the victim is the obvious one to do the seeing, it is not correct to encourage the seeing of crime without providing a clear definition. It is precisely such vagueness of definition of hate crimes that encourages victim culture.