Yesterday Perry and I went to see the Aztecs exhibition at the Royal Academy of Arts in London. The event has been widely advertised, commented upon and heralded as "once in a lifetime opportunity to experience the grandeur and sophistication of this once great civilisation".
It was certainly unique – most of the Aztec artefacts were for the first time shown outside Mexico and the exhibition presented a powerful image of the extinguished culture. It also felt rather alien, without any reference point to a known cultural context. Greek and Roman art is familiar, and we have grown accustomed to aesthetic norms of other cultures – Indian, Far Eastern, Arabic, Egyptian, Assyrian etc. We have come to terms with the diversity and varied beliefs across history and view them with a tourist's curiosity and fascination.
We have also restrained ourselves from pronouncing any judgement on other cultures and their ways, satisfied with our understanding of why they did things the way they did. We only heap judgement and condemnation on the European ancestors and their evil, corrupt and dark ways – slavery, imperialism, feudalism, colonialism, fascism, unrestrained capitalism, the list of -ism is long, conspicuously lacking Marxism, Leninism, Stalinism, Maoism… But I digress.
And so I encountered an uncomfortable paradox. The Aztec culture was bloodthirsty, obsessed with death and killing in a way that surpassed any other civilisation known to us in its cruelty and disregard for human life. At the exhibition you can see the stone across which they bent the humans about to be sacrificed, sliced their breastbone open and tore the beating heart out to offer it to one of their insatiable blood-craving gods. There is also a funny looking vessel, with a carpet of little blobs on its surface, complete with a lid to keep the stench of human skins of the flayed victims of Aztec religious rituals. The surface is meant to look like human skin turned inside out. How artistic and in the best possible taste!
Kneeling Cihuateotl. (one monkey) Stone. The British Museum, London. Photo © The British Museum, London
Yes, there are also many splendid works of art. A rattle snake carved out of stone, a stunning jade mask that was a valuable Olmec antique to Aztecs themselves, numerous statues of people, gods and animals, breath-taking in their beauty and strangeness. The Aztecs' artistic skill, however, did not make them a civilisation worthy of respect and propagation.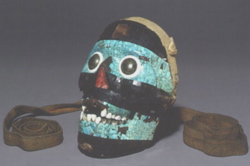 Mosaic mask of Tezcatlipoca, Aztec. Human skull, mosaic of turquoise and jet, eyes of shell and pyrite. The British Museum, London. Photo © The British Museum, London
Their society was rigidly ordered and controlled. It was totalitarian and authoritarian in the most sublime matters and in the most trivial. It required human and blood sacrifice and its warriors were used almost exclusively for capturing humans for sacrifice. It also prescribed to a minute detail what people were allowed to wear depending on which class they belonged to. OK, the last one may sound just like a typical feature of a feudal society with its rigid medieval hierarchy but believe me there is a difference. For the Aztecs, the only good death was a violent death and they believed that dying as a human sacrifice was one of the most 'valuable' deaths. Dying in childbirth was another one. Go figure. They also believed that sacrificing humans was essential to all existence. Their gods required blood and without it the sun, moon, earth and other bits would cease to exist. By the time of the Spanish Conquistadors this cosmology 'required' them to sacrifice 10,000 people a year in their main temple.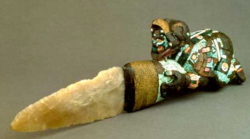 Sacrificial knife, Mixtec Aztec. Flint with turquoise mosaic handle. The British Museum, London. Photo © The British Museum, London
Now, if someone tells me that it was alright for Aztecs to kill 10,000 people, 'cos the poor dears believed that the sky will fall on their heads if they don't, I would tell them that they have lost their marbles. To me it is a manifestation of a primitive and barbaric civilisation that was doomed. And if it wasn't, I am glad it was exterminated. I do not agree with the Spanish Conquistadors and their methods any more than I'd agree with raiding for sacrificial victims but Aztec culture was demonic. I am glad I can see what the Aztec artists created and marvel at their talent and skill but I rejoice that they are in a museum.
I want to be able to condemn what I see as evil in their civilisation just as we criticise societies in our past and present. So in the West we have animal rights activists who would not allow us to wear fur coats but will admire a civilisation whose priests wore skins of their human victims until it rotted off their bodies (their heads too, yuck). Of course, to them it's not the same, for we want to fiendishly protect our bodies from cold, or God forbid, adorn ourselves (how beastly!), whilst the Aztecs symbolise renewal and the preference for human skin was merely part of their spring festival (how quaint!).
Just like the masterpieces of da Vinci and Michelangelo do not suggest that the contemporary societies and their rulers were just and equally inspired in their expression, let's not confuse the strange appeal of Aztec art with the inhuman nature of their society. I may be inspired by the Aztec art, but there my inspiration ends and so does my admiration for their culture and civilisation.