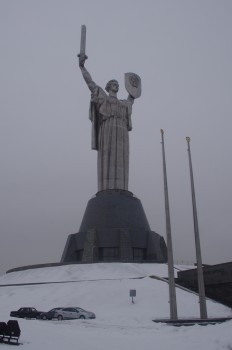 Kiev, Ukraine. January 2013.
This rather extraordinarily monumental statue stands on top of (and forms part of) the Museum of the Great Patriotic War in Kiev, Ukraine. The monument is officially named "The Mother of the Fatherland" but (perhaps curiously) is more commonly referred to as "The Mother of the Motherland", and (perhaps less curiously) is sometimes referred to colloquially as "Tin Tits". The museum commemorates the Soviet victory of the Nazis in World War 2. Although people in most countries of the USSR have rather ambiguous (at best) feelings about their Soviet past, the victory over the Nazis is quite reasonably seen as a good thing, and memorials to the war are still generally looked after and treated with respect. The statue itself is 62 metres tall. Including the base and building it stands on, the statue is over 100 metres above the ground, making it one of the largest statues in the world.
The statue sits upon a high hill overlooking the Dnieper River from its right bank, towards Kiev's endless Soviet era suburbs on the other side of the river.
Enormous as this statue is, it is actually less grandiose than an earlier proposal. In the 1950s, there were proposals to built twin statues of Lenin and Stalin side by side, each approximately 200 metres tall – each significantly higher than the Washington Monument. Thinking about this in the past, I have thought that these statues would have been unspeakable abominations, and that the Ukrainian people were extraordinarily lucky to merely have the current, modest structure instead of this.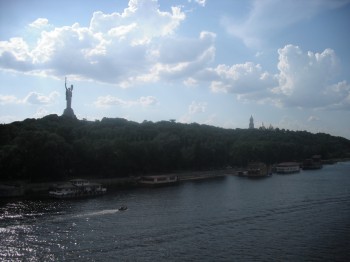 Kiev, Ukraine. June 2009.
This evening, though, I am not so sure. Well, not entirely. Sure, they still would have been unspeakable abominations, but what a fine day today could have been had they been there. Imagine these gigantic statues of these evil men being pulled down, and the immense splash that they would have made as they fell from the top of the hill into the Dnieper, causing tsunami all the way to Dnipropetrovsk.
That would have been awesome.