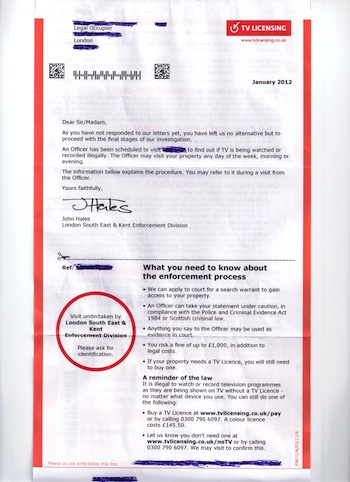 Let me see
An officer has been scheduled to visit to find out if TV is being watched or recorded illegally. The Officer may visit your property at any day of the week, morning or evening
And he may stand outside and knock at your door like any other member of the public. You are perfectly free to then let him in, not let him in, stand there and stare at him oddly for a time whilst making clucking noises, or suggest he undertake in biologically impossible sexual acts. Entirely your call.
We can apply to court for a search warrant to gain access to your property
Yes, you can, just as you can jump off a cliff, flap your arms, and see if you can fly. The fact that (after I have lived at this address for two and a half years) you are still addressing me as "Legal Occupier" does tend to suggest to me that I should perhaps not quake in my boots too much. Magistrates are not, as I understand it, generally terribly impressed when people apply for warrants to enter the premises of unknown people who are not known to be breaking the law in any way. Or even known people who are not known to be breaking the law in any way, for that matter. Oddly enough, I get letters from Sky from time to time suggesting that I might want to pay them money in return for television services, also. Since soon after I arrived here, they have been addressed to "Dr Michael Jennings", suggesting that it is not actually very hard to find out who lives here. Although they have not actually been any more successful in getting me to pay them money then the TV licensing people have, they have at least been polite, and haven't threatened me with anything. It is almost as if they think I have a choice.
An officer can take your statement under caution, in compliance with the Police and Criminal Evidence Act 1984 or Scottish Criminal Law

Anything you say to the Officer may be used as evidence in court
Best not to say anything then, hey?
You risk a fine of up to £1,000, in addition to legal costs
This is why, if they do actually obtain evidence that you are watching television without a licence, possibly because your naive flatmate or one of your children let the nice man into your flat when you were not there, you should offer to pay for a television licence at once. The TV licence men get paid a commission when you do this, so it is usually not too much trouble to get them to agree to it. (Agreeing to pay it retrospectively is much better than being taken to court. This is another reason why the only people actually taken to court tend to be penniless single mothers). However, it's generally better to teach your flatmates and children to never let vampires, politicians, people from television licensing, or census enumerators into your home under any circumstances, and make it understood that they will be punished harshly if they do.

A reminder of the law
Oooh. Bold writing.
It is illegal to watch or record television programmes as they are being shown on TV without a TV Licence – no matter what device you do.

Let us know if you don't need one at www.tvlicensing.co.uk/noTV or by calling 0300 7906097. We
may visit to confirm this.
And if they do, you are once again free to let them in, not let them in, stand there and stare oddly for a time while making clucking noises, or suggest they undertake in biologically impossible sexual acts. Once again, I wish them well in obtaining a warrant to enter your premises to verify that you are not doing anything illegal, given that there is no evidence that you are other than your claim that you aren't. TV licensing are actually well known for paying no attention to people who tell them they do not have a TV – everyone does, after all. Let's see if we can instead persuade your children to let us into your home so that we can prove that you are lying.
Slightly more seriously, the rhythm of these missives from TV licensing can be predicted. They start out polite, and they gradually gain more red highlighting, and become steadily more threatening. Then, after a cycle of about six, they go back to polite, and work their way up again. Only once did a man from TV licensing actually make a visit. On this occasion, there was a knock on the door of my flat at about 9am one morning. A stern voice asked "Can I have a word with you?" in a semi-threatening tone. I asked who he was. He answered "TV licensing". I explained politely that while the stairway and corridors of the block of flats in which I live are shared by the various tenants of the building, they are not a public place, and that he was therefore trespassing, and that if he wished to talk to me he should go downstairs, shut the door to the building behind him, ring my bell, and talk to me on the intercom. I don't know how he had got in – perhaps he had rung the bell of one of the other tenants and claimed to be the postman. Or perhaps he had been let in by the naive flatmate or one of the small children of one of the other tenants.
In any event, I spoke no more and returned to my kitchen to finish preparing my breakfast. He spoke no more to me, either. Several minutes later, a piece of paper quite similar to the one scanned above came through the mail slot in the door of my flat, explaining that someone from television licensing had called but that I had been out, that if I was watching television without a licence I was BREAKING THE LAW, and that another visit would be scheduled soon.
That was about two years ago.