Last week, as I was wandering around a slightly shabby (but brightly coloured) neighbourhood of Santiago, I encountered the following restaurant, which was sadly closed at the time of day I visited.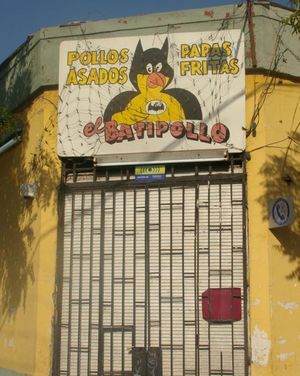 It is likely that if a restaurant put up such a sign in Britain or America, it would soon receive a cease and desist letter from DC Comics or some other branch of Time Warner. However, despite the fact that the Chileans were undoubtedly required to enact some ghastly DMCA-like concoction as a consequence of the negotiations that led to the United States / Chile Free Trade Agreement, enforcement is somewhat laxer than it would be in Europe or North America.
This is, in my opinion, a good thing. If such a sign were taken down, there would be no consideration of the most important question related to it, which is What in the name of Apocatequil were these people smoking?