Funny how one posting leads to another. There I was going on about books, and now, as David Carr has already flagged up in a posting below, here come a thousand books.
I agree with David that this Liberty Library is a very important development, with potentially enormous long term significance to the cause of liberty. And it so happens that when I was in Brussels earlier this year, in addition to snapping the new EUro-parliament, I also took photos of, among many other interesting people, the two men in charge of this other and far better project.
Here is the techy of this operation, CNE webmaster James Rogers…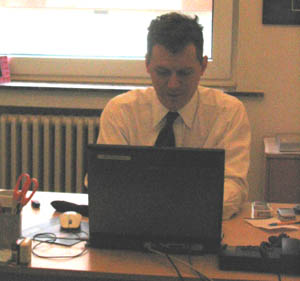 … and here is the academic supremo, Dr Hardy Bouillon: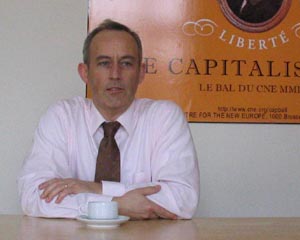 Good as Hardy Bouillon is at this kind of thing there are almost certain to be some omissions, and there may even be the odd mistake in what is up there already. In either event, Hardy wants to know.
As it happens I think I may already spotted an error, in the form of a duplication. Government Failure: A Primer in Public Choice by Tullock, Brady and Seldon, seems to get two entries, the one right above the other. That is no big disaster, two mentions of this fine volume being greatly preferable to no mentions.
There is no explanatory verbiage attached to each title. It is just a plain and simple book list, with subject area (economics, history, literature or whatever), title, author, and link to where you can buy it and where you will find explanatory verbiage. A simple idea, simply done. I am told that it will be possible to search for an individual title, or to search for all the works of an individual author, but I cannot now find that facility. Unless this is just me, these further features have yet to materialise, but presumably they will very soon.
The sort of people who find books rather heavy going to plough through, and who prefer lighter reading of the sort supplied by things like Samizdata, are prone sometimes to underestimate the importance of books. We want action not words, blah blah blah. And it is true that people who already have classical liberal or libertarian opinions, and who have their lives and careers all up and running and who hence have only so much time to be reading books, are probably not the target readership of this site, although if that description fits you and you still want liberty-inclined books, got there and click away. But students, meanwhile, and younger people generally, with their opinions as yet unformed and their entire adult lives still ahead of them, are likely, insofar as they have been persuaded to look at this site at all, to be profoundly influenced by it, that is, by the enormous volume of writing to which it now provides easy access. I wish the project all the best. It can only make the world a better place.
I only discovered David's post about the Liberty Library just before I was about to put this up, and of course I then had to scurry back to the drawing board, so to speak. And I obviously considered not bothering with this post at all. But, like that Government Failure book mentioned above, if this Liberty Library is good enough for one mention, which it definitely is, two mentions, although a trifle confusing, can do no very great harm.