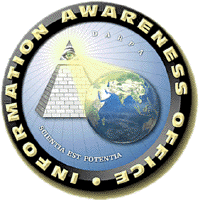 Whilst looking for something entirely different I stumbled across the public domain slides and script for a talk given by John Poindexter: "Information Awareness Office Overview". Since there was some discussion about this DARPA research project a few weeks ago, I have acquired copies and placed them on our server.
That way, if a slashdot occurs, instead of causing headaches for some unsuspecting research site administrator, I'll only annoy the ISP that hosts us.
You will probably want to do "the rightclick download thing" as these are pdf documents.
Cheers!
Addendum: If there is sufficient interest, I will acquire and post some of the other talks.