The first WhiteKnightTwo carrier aircraft was rolled out of its hanger in the Mojave desert on Monday. The second stage vehicle, SpaceShipTwo, has been held back due to the ongoing investigations into the test stand accident of one year ago. Although that accident was little more than a plumbing and pressure test, there is as yet no full understanding of exactly what happened. Because of this uncertainty, Burt has delayed much development of SpaceShipTwo so as to avoid building things he might later have to rip out. This is the reason why the target date for passenger service has slipped into the 2010 time frame.
Still, the roll out of WK2 is a major milestone. As you can see in the photo, it is not a small aircraft! You gain an even better impression of that size from the raw press release video clip. (if you do not have a quick time plug-in, you may need to download first)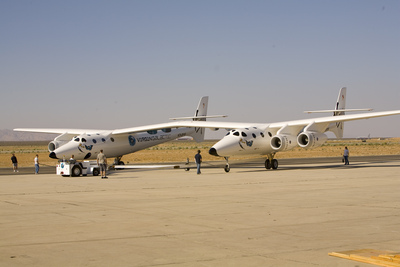 Monday July 28, 2008. Roll out of WhiteKnightTwo carrier aircraft 'VMS Eve' at Mojave Spaceport.
Photo: courtesy of Virgin Galactic