Take this letter to the Times from 2 June 1913:
I submit that the only effective way of dealing with these habitual and professional criminals is to expel them from the community against which they wager incessant war. A third conviction at assizes, or at quarter sessions, should entail the offender's loss of personal liberty for the rest of his life. He should be deported to some island and reduced to a state of industrial serfdom…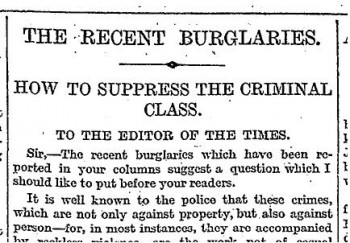 To view the whole page it seems you have to click on the image, right click and select "Open image in new tab" and then zoom in. This is for Google Chrome. Other browsers may be different.