At around midday today I caught Ed Davey MP babbling away on the telly about how 97 percent of climate scientists agree with him about the need to wreck the British economy and treble our fuel bills by making carbon illegal, or whatever. The BBC person present complained that Davey wasn't doing nearly as much to wreck the British economy and treble our fuel bills as he should have been doing, and that what he was saying was merely bluster to comfort greeny true believers. It would certainly be nice to think so.
Peter Lilley MP, also present, had plenty to say about these absurd claims, but the word – just the one word – that he used that I remember most fondly was: Tosh.
Later in the day, on a tube train, I learned of better British economy and energy bill news, in the form of this City A.M. front page: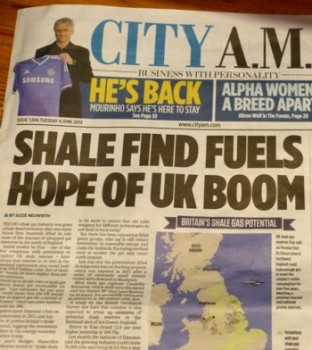 Here is the front page story.
Quote:
THE UK's shale gas industry was given a huge boost yesterday after one exploration firm massively lifted its estimate of the amount of untapped gas resources in the north of England.

Initial studies by IGas – one of the few companies with permission to explore UK shale reserves – have shown that reserves in its sites in the Bowland exploration area could hold up to 172.3 trillion cubic feet of shale gas – nearly 20 times higher than previous estimates.
My favourite paragraph of this story is this one:
But there has been opposition from green groups, who say it will reduce investment in renewable energy, and claim the hydraulic fracturing method used to recover the gas may cause earth tremors.
Anything that reduces invetment in "renewable" energy, which is the stupid kind, is all to the good. As for those earth tremors, bring them on.
City A.M. Editor Allister Heath starts what he has to say about Britain's shale bonanza with this question:
What are we waiting for?
Waiting, presumably, for the likes of Ed Davey MP to be dumped into the dustbin of history where they belong.