Last night I watched a television documentary about the career and achievements of Gordon Murray, a very different Murray from the tennis Murray whom I mentioned here on Saturday. Gordon Murray designs cars.
He started out doing racing cars. Time was when Gordon Murray was applying his extraordinary ingenuity to designing such things as "improvements" to McLaren racing cars, improvements whose only rationale was that they drove through some silly loophole in the rules of Formula 1 racing, a loophole that would soon close and render the new design feature utterly pointless. Okay, F1 is fun, and okay, most of what Murray did was make F1 cars go ever faster and get ever cleverer. But that rule-dodging bit in particular seemed like a serious waste of a talent, and I am sure the television people intended it to.
But Gordon Murray then took a big step towards applying his stellar engineering skills to a task more worthy of them when he designed the McLaren F1, which is the fastest car that multi-millionaires can buy to drive on regular roads. Better.
And now, Murray has designed a small car. This small car looks like a superior version of one of those covered over motorbikes, but actually it is a lot cleverer and more capacious than that. It is cleverer because it embodies half a lifetime of Murray's experience in Formula 1, making everything in cars lighter, smaller and just plain better.
There are many ways to innovate. A good way is to innovate in just one aspect of a design, while relying on tried and tested technology for everything else. That way there is only one thing to go wrong and to get right. Very wise.
But Gordon Murray's way is different. More "courageous", you might say. He looks at everything. He looked at small cars the way huge teams of aircraft designers are perpetually looking at aircraft design, chiselling little ounces of bulk from here, there and everywhere, and where possible trying more serious rethinkings and rearrangements, adding up to a seriously improved product.
Innovation done this way can unleash a ton of mistakes, with all the good ideas getting overwhelmed by a few bad ones. Everything has to work. You have to get, near enough, a hundred out of a hundred, or you fail. You need lots of skill and experience to get a score like that. Gordon Murray, it would seem, has an abundance of both.
In particular, just as a for instance, this small car is interesting (courageous?) in using the same seating arrangement as the McLaren F1. In the McLaren F1, instead of the driver sitting on one side at the front, and then another bunch of people sitting behind on another big seat, or not, the F1 has the driver in the front in the middle, and two other seats on either side, but set back, in an arrow formation. The passengers can presumably stretch out their legs beside the driver's bum. And the new small car has just the same seating set-up. Which makes it feel bigger inside than a regular small car, but much less bulky from outside.
Also, the doors to the new small car are an all-in-one door, which opens up and forward, like the top of an airplane. Combined with that seating arrangement, this makes it easier to get in and out of than the competition.
This small car comes in two versions. There is the black T25, which is petrol driven, and which looks like this: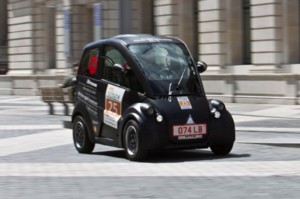 And there is the blue version, the T27, which runs on electricity. They showed the T27 towards the end of the television show, in the company of some veteran cars in a place that looked a lot like central London, and I thought: hang on, this rings a bell. Sure enough, after a little digging in my photo-archives, I found this snap: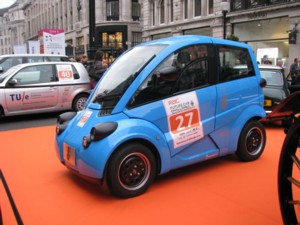 I took that picture of the T27 on the same day, early last November, that I took all these photos of veteran cars in Regent Street. (There is a slice of veteran car there on the right.) I far prefer the look of the black T25. Its strangely retro styling reminds me of a delivery van of the sort I recall from my youth. The blue T27 looks to me, still, like a boring little car only pretending not to be boring, which is why I had no idea how interesting it was when I first set my eyes and my camera on it. Oh me of little faith. Kudos to me, though, for taking "too many" pictures whenever I go out a-snapping. Time and again, as in this case, I only realise later, and sometimes a lot later, what I photoed.
Being so unbulky, this new T25/27 is much more fuel efficient than regular small cars, but its energy efficiency does not stop there. One of the most interesting moments in the programme came when they talked about how this new car will be made. There is more to cars being efficient than cars being efficient to drive. They also have to be as efficient and as cheap and as easy as possible to make, and this new car requires far less in the way of capital investment before you can start cranking them out. The huge manufacturing costs of regular automobiles, said my television, explained why most car makers prefer making expensive cars to cheap cars. Cheap cars don't make any money. But this cheap car will make money for those who make it, or that's the idea. That's another huge potential step forward.
The claim was repeatedly made in this programme that this T25/27 is the biggest innovation in car making since the Model T, what with the revolutionary way that the Model T was manufactured. But the cars that this new gizmo makes me think of are the Citroen 2CV and the Volkswagen, which were likewise designed to be more easy to make than regular cars, were they not? The Citroen 2CV, I seem to recall reading, was banged out by peasants in a big barn, or some such thing, just after WW2, when manufacturing skills were scarce. This seems a lot like the T25/27 plan, which is a twenty first century version (i.e. with shipped in magic bits) of the same thing.
The T25/27 secret, apparently, is that the structural frame of the car is made of metal tubing, and that is far easier for cheapo, Third World type fabricators to work with than however small cars are made now, by the likes of Toyota and Ford and the rest of them.
The upshot of all this is that here is a small car, a truly small car, that will make regular non-multi-millionaire motoring massively less of an energy gobbler.
Which in fact means, if it all goes to plan, that many more people will drive around in such cars than drive around in any cars now, and the total amount of energy consumed by these cars as they wizz hither and thither will then go up. But, a lot more people will be having fun and getting themselves and their stuff from A to B. So: very good.
Or, it could be that too many of Gordon Murray's innovations will turn out to be mistakes, in which case car historians may point back to the T25/27, to say where Toyota and Ford got their next bunch of ideas, while the rest of us may soon forget this most interesting and admirable man. What if, for example, we regular punters just can't be doing with that strange new seating arrangement? What if drivers just have to have company sitting right next to them when driving? And what if that radically rethought manufacturing method turns out to have too many mistakes built into it? So maybe the T25/27 will go down in car history as an heroic failure, rather than getting flagged up as a triumph, Volkswagen or Deux Chevaux style. It may be remembered, that is to say, as a very gutsy shot at a real car that was actually only a concept car. We shall see.
Earlier yesterday, in the afternoon, I caught Jenson Button and Lewis Hamilton moaning on the telly about their (McLaren) racing cars had been way off the pace in the British Grand Prix. Are they missing Gordon Murray, I wonder?