Last night I attempted to describe what I thought of this (which I photoed about an hour before photoing that Pedibus):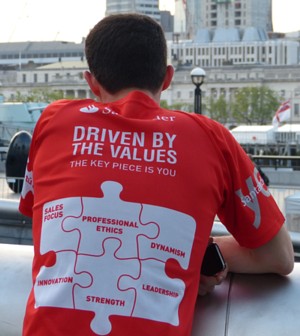 But I feared that my efforts of last night might get Samizdata sued for libel by Santander, so I had to start again. Maybe Santander really do practise all that they are here preaching, on this bloke's back.
But, Santander aside, what is it about corporate proclamations of this sort that makes them so vomit-inducing? (See what I mean.) I mean, you don't have to run about London in a T-shirt like this, do you? Nobody pointed a gun at this bloke, or I do not suppose so. And if you really hate having to endure this kind of verbiage at work, you can always get some other sort of job, can't you?
Maybe not. Maybe if you are an office worker, in a city like London, of a certain rank, doing a certain sort of work, then insincere verbiage exuding fake enthusiasm and moral ambition that is relentlessly out of line with what they actually reward you for doing and fire you for neglecting to do is something that cannot be avoided, no matter where you work. Besides which, moving from one job to another, although perhaps possible, is quite an upheaval. For many, another job that covers the outgoings would be hard to come by, in times like these.
Now I entirely realise that a T-shirt that I don't like does not register very highly on the evilometer. It is nothing, for instance, compared to the kind of skullduggery that Johnathan Pearce's piece earlier today, about Fast and Furious, alludes to. Nevertheless, I'd be interested if readers here are as put off by this kind of thing as I am.
I don't think it's just me. I have a number of friends who are, right now, being driven almost insane with suppressed rage by employment which (a) they would prefer to hang on to, despite it (b) involving lots of the usual tiresome crap that you have to put up with when you have a job, but which also includes (c) occasional bouts of psychological torture when, often at vast expense and involving huge amounts of travel, everyone is subjected to interminable out-of-hours company propaganda – propaganda that cannot simply be screened out, because it demands "involvement", the content of which is insultingly disconnected from the daily grind. It's a kind of spiritual bullying, and yet my friends just have to put up with it. If they said what they really thought, they'd be fired for insubordination on the spot.
I'm out of all this now, but my own most memorable experience of this kind of psychobabble company bullshit, so to speak, was actually very positive. But that was a long time ago, before this kind of stuff got way out of hand. And the person doing it to us really knew what she was talking about, did so with total honesty and lack of waffle or of third-hand verbiage she had got from a book that she didn't understand, and she knew how to make it stick. And she was in general the absolute opposite of the kinds of bosses from hell who combine being mediocre with being mad that my friends now complain about.