If the ten day London weather forecast is anything to go by, and I think it is, yesterday was the last day of nice weather that London will see for quite a while, again. So yesterday, thus forewarned, I made a point of going out and about in London, photoing. (Longer range weather forecasts are an entirely different matter.) Sure enough, the weather was excellent, except at the end when it started clouding over.
And one of the more diverting things I observed and photoed was this, on London Bridge: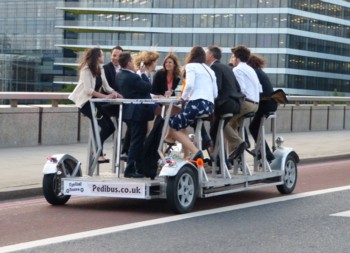 Yes, it's a Pedibus. Even though Transport Blog is now in a state of permanent repose, I acquired the habit of photoing any strange form of transport I observed, so that I could feature it there, in among all the droning on about rail privatisation, and the habit of taking weird transport photos whenever the chance arose stuck. Also, the above photo is yet another in my now vast collection of people taking photos.
Although, I really should have videoed it to do it justice.
The people actually powering that particular Pedibus look suspiciously young, attractive, healthy and gender-balanced to me. I suspect they are promoting the thing, rather than actually paying to use it. (Peddling it as well as pedalling it, you might say. (See first two comments.))
But I reckon that if that is mere promotion, it ought to work. The Pedibus, it seems to me, unites a number of modern obsessions all into one activity, obsessions such as:
– Sitting at a table with friends, shouting nonsense.
– Showing off by doing something very weird in public.
– Drinking alcohol.
– Pedophilia, i.e. taking exercise by sitting on some sort of pedalling device, perhaps a bicycle of some sort but often just a thing with only pedals.
– Greenery. You can imagine yourself not having not such a big carbon footprint as you might have, while doing this.
I also think that it may appeal to all those who favour pedalling but who are reluctant simply to be pedalled around by someone else, because that seems just too Third Worldish, and who are reluctant to pedal around London alone because it seems too scary.
Best of all, because (although you can't see him in my picture) there is a person at the front steering, you get to do, sort of, drunk driving. Perhaps Londoners will rename this contraption the Pub Crawler, because it would be ideal for that.
Even bester, it would seem that you don't have to wear a helmet, which will surely rile all the cyclists, either because the cyclists wish they didn't have to wear helmets, or because they think everyone else doing anything at all similar to them (walking along the pavement for example) should also be compelled by law to wear helmets.
Bestest of all, the Pedibus annoys the hell out of pompous git licensed taxi drivers.
Next, Pedibus racing. I googled those two words to see if that was already happening. Apparently not, but I did learn that "pedibus" is the Latin for something or other to do with ancient Roman chariot racing. Although I couldn't be bothered to work out what.
I love London.