This afternoon I attended an event in the House of Commons organised by the Adam Smith Institute, to launch their publication (published in partnership with the Cobden Centre) entitled The Law of Opposites: Illusory profits in the financial sector, by Gordon Kerr. Kerr himself spoke.
Alas, Gordon Kerr is a rather quiet speaker, and he did not use a microphone. Worse, after the talk had begun, I realised that right there next to me was some kind of air conditioning machine whirring away, in a way that made following Kerr's talk difficult. Live and learn.
But I got the rough idea. Bad accountancy rules make disastrously unprofitable banks seem like triumphantly profitable banks, and those presiding over these banks are paid accordingly, even as their banks crash around them. And much more. The ASI's Blog Editor offers further detail.
Good news though. I, like everyone else present, was given a free copy of The Law of Opposites. See if you can spot why I am reproducing the cover here. I am sure this will not take you long. I was interested to see if the effect in question would survive my rather primitive scanning skills. It does: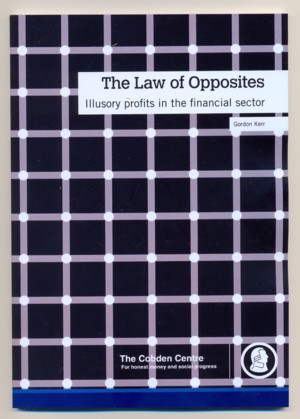 This publication is quite short, less than a hundred pages in length. Even better news. You don't have to buy a paper copy like the one I now possess if you don't want to. You can read the whole thing on line.