The pessimism expressed here for some time about China is now being expressed more widely.
Yesterday, via one of my favourite blogs, that of Mick Hartley (I especially like Hartley's own photos), I found my way to some other photos by David Gray, of China and its newly minted ruins of the last decade and more. My favourite of these is the very first in the set displayed at the end of that link, which has what it takes to become "the" Chinese picture for right now.
It looks very impressive from a distance …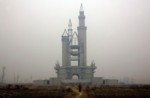 … but if you look at it closer up, it turns out to be a structure constructed by an idiot, full of steel and concrete, accomplishing nothing.
A few weeks ago, Samizdata's travel and much else besides correspondent Michael Jennings, who has (of course) recently been in China (he has recently been everywhere), was talking of doing a piece about the mad building spree now, still, going on in China. I'd still love to read such a piece, but I fear that Michael may have missed that particular boat, in terms of revealing anything very shocking.
Happily, he did comment at length on an earlier short Samizdata posting about the Chinese construction bubble.