After parting from Jim Bennett at the Roosevelt Hotel, I had to get a shot of this classic bit of Capitalism. You feel wealthy just looking at it.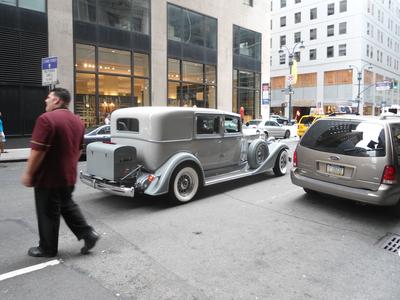 There is just a classy sexuality to the old Rolls that could never come out of the greyness of socialism.
Photo: copyright Dale Amon, All Rights Reserved
Instead of staying underground and taking the S train, I walked back through midtown. I always enjoy just passing through Times Square. It is never the same twice. Today I was surprised at the big Xinhua News adverts on the highest and probably priciest of the computer screens which have come to dominate the place.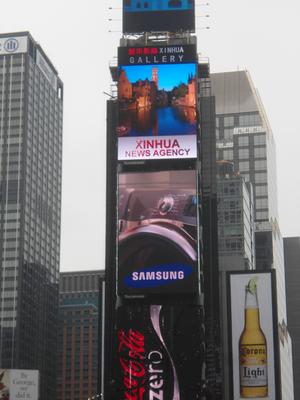 I sometimes wonder if I am in Times Square or crossed over into a Cyberpunk novel.
Photo: copyright Dale Amon, All Rights Reserved
The screens now cover the entire surfaces of some buildings in constantly shifting images.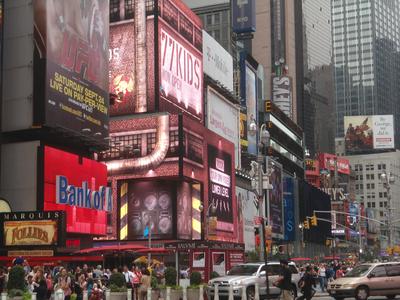 New York or Shanghai? The world just keeps shrinking.
Photo: copyright Dale Amon, All Rights Reserved
I had to stop and take a photo of this advert on the wall of the 42nd Street Metro station near the stairs down to the A Train platform. I should not have been surprised by it, given that the Palestinians were asking the UN to tell them they are a State. In my opinion, based on what I hope happens out in the solar system with some Libertarian settlement someday, you do not ask the UN to be a state. You tell them. Of course the other side of this coin is that you try to make friends with your neighbors because if you shoot at them in a Libertarian world, they *will* shoot back…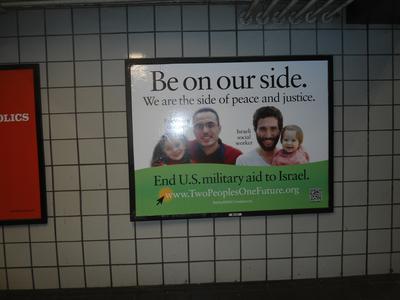 Is it really peace with Israel they want or is it Israel in pieces?
Photo: copyright Dale Amon, All Rights Reserved