For the last few days I have been far out in the Virginia hinterlands at the farm of a fellow libertarian with Belfast ties. In fact, his daughter was born there and it made for rather interesting evenings, chatting about firearms, how to live independently… and talking about Belfast pubs, pub owners and musicians we knew in common.
It goes almost without saying that I, being a Samizdatista of the Inner Circle and this, being a good size farm, one thing led to another and I let off a few rounds at innocent metal cans with a classic rifle.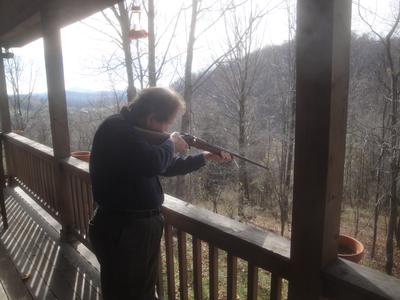 The can never stood a chance.
Photo: copyright Dale Amon, All Rights Reserved
In case you are wondering; this early 1932-34 era example of the Winchester .22 some of you remember from Boys Life, was lovely and in good shape except that the sight had serious issues. My first two shots at the can, about 25-30 yards out in the woods, missed. I thought I had lost the touch or perhaps my eyes needed work. I watched my friend try and saw the puff as his round impacted well above and behind the target. That told me what I needed to know. I aimed about six inches below the can and sent it spinning. A small thing, but I have not fired a rifle in a little over twenty years, so there was a bit of satisfaction in watching the can go flying.
I also had my opinion of chickens completely changed. Most chickens I have run across peck at the ground and pretty much do their dumb bird thing. But one of his hens was different. It was hand reared and as soon as we got to the coop it jumped up to 'talk' to us and be hand fed and get its feathers ruffled. This one had a real personality.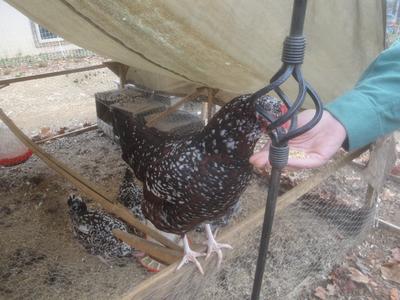 This personable young hen introduced herself to me while being fed by her personal nutritionist.
Photo: copyright Dale Amon, All Rights Reserved