Some people are their own worst enemies. Take, for example, the rather eccentric-looking chap in the photograph below. He appears to have rather clumsily allowed himself to be portrayed as a depraved menace when he is but a makeover away from becoming a card-carrying member of The Great and The Good.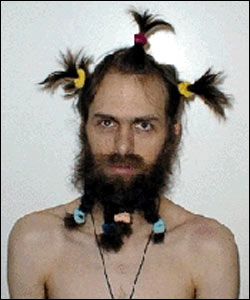 A network of "suicide gurus" who use the internet to advise people how to kill themselves has been exposed…

One of the most notorious figures on the internet suicide scene is Nagasiva Yronwode, a self-confessed Satanist who runs a shop selling occult books and charms in the small Californian town of Forestville, north of San Francisco.

Yronwode, 46, describes himself as the "outreach director" for an extremist cult called the Church of Euthanasia, which advocates suicide as a means of saving the world from the effects of overpopulation.
Does this self-defeating fool not appreciate just how seductive his central message would be to the bien pensant? Indeed, they are treading water just waiting for someone like him (only a plausible, marketable version) to come along. All he needs to do is to make himself a bit more presentable. First off, he should drop the 'Satanist' thing. Satanists are nowhere near homicidal enough to be taken seriously.
Secondly, he needs to change the name of his cult from 'Church of Euthanasia' (too many negative connotations, especially the 'Church' bit) to something like…let's see…'Earth Guard'. Yes, something like that.
Next, the hair. I see where he is going but it is actually a bit too scary. He needs a team of stylists to give him that immaculately unkempt, tousled look that suggests that he has just spent the last six weeks trekking through the Amazon basin while actually remaining clean, sexy and approachable.
While it is difficult to criticise a man's wardrobe when he appears to be wearing nothing, he must, in fact, give a lot of thought to this. It is very important. He must dress in casual but expensive designer clothes (but avoiding anything pin-striped or which may smack of business). He must also learn to wear them without even a hint of self-consciousness, developing the kind of incidental nonchalance that says he does not spend even a second thinking about anything so trivial and consumerist as his appearance and that these designer togs all just fell on him as he unthinkingly walked past a wardrobe.
His name is good. He can keep that. It is appropriately ethnic and difficult to pronounce and will enable him to fabricate some cock-and-bull story about his native land and peoples being despoiled and plundered by the predations of the greedy, Western, warmongering profiteers. They will lap that stuff up on the college circuit and the less truth there is behind it the better. He can also keep his job title – "Outreach Director". Nobody has the slightest idea who they are or what they are supposed to do but they get hosed down with money drawn from the public well. Why change that?
So, by taking his central idea of mass suicide for the sake of the planet while undergoing a few easily-achievable adjustments, this man could turn himself from a pariah into a much-admired ethical voice for decency in the midst of a wicked, uncaring world. Instead of being hounded by and pilloried in the press, he would find himself the subject of fawning editorials, his merest utterances carried away and borne forth into the popular lexicon almost before they have left his lips. He would be whisked off to every international climate jamboree where he would rub shoulders with all the governmental and non-governmental glitterati. He would be glad-handed by politicians who would earnestly seek his advice on framing their next round of legislation. He would be slobbered over by dewey-eyed Hollywood celebrities and the legions of vulnerable teenage followers that he seeks would flock to him in such numbers that he could never have imagined in his most flagrant flights of Satanist fantasy.
Yes, Nagasiva Yronwode is a man for our times. He just doesn't know it yet.