I love this mighty beast, linked to by David Thompson in his latest batch of ephemera links (which he does every Friday and which I highly recommend):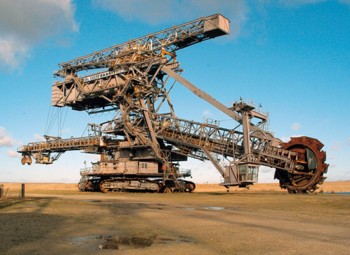 This rusting hulk is (was) one of the world's biggest digging machines. It now resides in an open air museum, where the captions and propaganda messages are all about the ecological folly of big digging machines. But for me, this is a glorious monument to man's continuing and growing ability to impress his imprint upon nature.
And thereby, incidentally, to create all manner of interesting new habitats for other forms of nature beside man, once man has finished with using them for his original purpose. Last night I happened to watch a TV show about some defunct clay-excavation-for-brick-making site, somewhere in the Midlands I think, which has now become one of Britain's most satisfactory habitats for various particularly interesting sorts of newt. In general, I think the way that the First Industrial Revolution churned up the landscape and thereby made it more varied and interesting, is an under-talked-about topic.
The Norfolk Broads, no less, which I have fond memories of sailing on as a boy, began as peat mining:
It was only in the 1960s that Dr Joyce Lambert proved that they were artificial features, the effect of flooding on early peat excavations. The Romans first exploited the rich peat beds of the area for fuel, and in the Middle Ages the local monasteries began to excavate the "turbaries" (peat diggings) as a business, selling fuel to Norwich and Great Yarmouth. The Cathedral took 320,000 tonnes of peat a year. Then the sea levels began to rise, and the pits began to flood.
So, good for Dr Joyce Lambert, good for the Romans, good for exploitation, and good for rising sea levels. The Romans would have loved that giant digger, even as they would have been amazed and discomforted that it was made by their arch-enemies, the Germans.
In further interesting environment-related speculations Bishop Hill reckons we may be due for a cold winter, on account of the sun taking a bit of a rest just now. Interesting. We shall see.