The F-117 Nighthawk, the stealthy USAF 'first responder', is retiring after 25 years of active duty.
HOLLOMAN AIR FORCE BASE, N.M., Oct. 31, 2006 – After 25 years of storied service, the F-117 Nighthawk, the Air Force's first stealth fighter, is about to retire.

The technology that once made it unique has now caught up to it, and newer fighter aircraft are joining the fleet. Still, the Nighthawk was the first of its kind, a fact anyone who has spent time around the aircraft is quick to point out.

Many of these people gathered here Oct. 29 to commemorate 25 years of Nighthawk history at the Silver Stealth ceremony. Members of the F-117 community, past and present, were on hand to pay homage to the aircraft's illustrious history, a history that contains as many secrets as it does legends.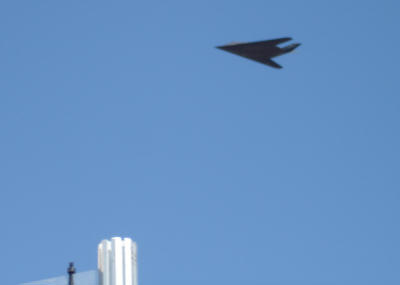 F-117 over Las Cruces, New Mexico airport on Oct 21st during X-Prize Cup,
Photo: Dale Amon, All rights reserved