Greece has banned the sale of living dead dolls – kids' toys featuring fiery eyes, scarred faces and bloodied mouths which come in their own little coffins. Oh, and the dolls also have their own death certificates.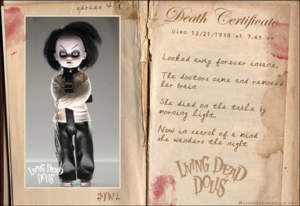 Playful Sybill
Sybill is strapped in a strait jacket with a collar and chain while Inferno has auburn hair, fiery eyes and bat-like wings. They should be a hit with children who just love all things gory and gruesome. But no, the Development Ministry said:
"There is no way we will allow these dolls on the market…these toys constitute a serious threat to the smooth formation and development of the child's personality and mental health."
Unlike your knee-jerk statist interference., right?