I've just received email notice of the death of Dr. Robert L. Forward. He's known to some for the wonderful "hardest of the hard" Science Fiction he wrote; to others for his cutting edge work in physics and propulsion systems; and to still others for his loud vests, boyish exuberance, smile and tossled white hair. At any conference his gesticulating presence around the bar of the hospitality suite was certain. He carried all around him on a race through one stunningly creative idea after another.
I last talked to Bob in May when he was of enormous help as I put together a conference track on Novel Propulsion Systems. "Enormous help" from Bob was the rule, not the exception. He's been of assistance to me so many times over the twenty years in which I have had the good fortune to know him I would be filling pages if I were to itemize.
All I can say is, we'll miss you Bob. Intellects and personalities wrapped up with warmth and caring like yours are more than few and far between: they are nearly non-existant.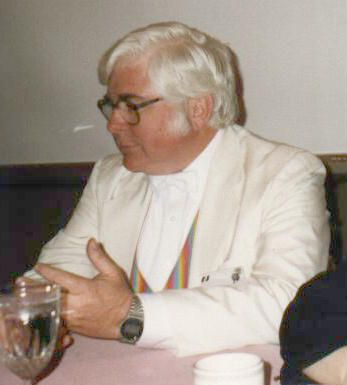 Bob Forward at 1992 National Space Society
conference in Washington, DC. (photo: D. Amon)