Last Wednesday, I attended a meeting at the Frontline Club, which is near Paddington Station in west London. The meeting was devoted to the memory of the great Romanian businessman and freedom-championing newspaper owner Dan Adamescu, and the danger now facing Dan's son Alexander Adamescu. Some friends of mine are also Friends of Alexander Adamescu, and this is me trying to help them.
Encouraged by the organisers, I took photos at that meeting, photos of very variable quality, because of my woeful inexperience in what for me were very imperfect lighting conditions. But, I hope that the best of them may be of some use to the cause, and assist Alexander Adamescu's friends in stirring up more media attention.
The cause being that Dan Adamescu was, just over one year ago, imprisoned to death, so to speak, by the government of Romania, and that the government of Romania has for some time now been trying to do something similar to Dan's son Alexander, after he complained what was being done to his father.
Here is a picture of the big picture of the late Dan Adamescu that presided over the meeting, beneath which sat Alexander Adamescu, who spoke at the meeting: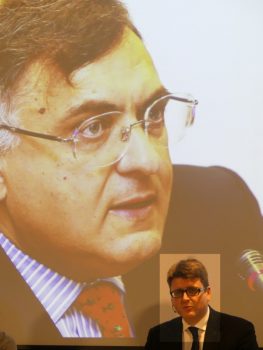 As you can see, I did a bit of photomanipulation there, to make it clearer what Alexander Adamescu looks like.
Alexander Adamescu now lives in London with his wife (who also spoke most eloquently about Dan Adamescu) and young family. But the government of Romania wants the British government to hand Alexander over to them, so that they can inflict upon him the same sort of parody of justice that they inflicted upon his father. Their instrument of choice to accomplish this is the European Arrest Warrant.
→ Continue reading: The government of Romania versus the Adamescu family