History, goes the old rhyme, is about chaps, while geography is about maps. Tim Marshall's book, Prisoners of Geography, is all about how these two matters are actually very hard to separate. What the chaps think and do, says Marshall, is profoundly influenced and often downright determined by the circumstances described in the maps.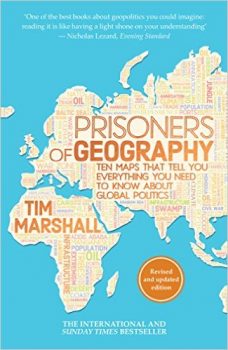 When I bought this book, in a remainder shop, I did not know who else was reading it. I am fascinated by the impact of geography upon history, but is anyone else? Since buying the book I have learned that it is now a best-seller. This pleases me, because it is a very good book, and in particular a very unsentimental book.
Britain and Western Europe, and then the other parts of the world where English is the dominant language, have mostly been blessed with a degree of geographically conferred freedom of manoeuvre that is denied to the inhabitants of pretty much all other nations. That is why these places got rich first. And it also now means that we Euros and Anglos are able to believe, as a matter of practical political policy rather than merely as privately pious aspiration, in a wide range of idealistic things of very variable value – things like freedom, democracy, equality, human rights, freedom for women, "social justice". and so on and so forth – things that geographically more constrained people can only, as yet, dream of, and which they often regard as more as a threat to their own ways of doing things than as any kind of promise.
Another book that Marshall refers to quite frequently in this book is Jared Diamond's Guns, Germs and Steel, which also offers a fundamentally geographical explanation for these facts. I share Marshall's admiration for this book , and it heads the bibliographical list at the end of Prisoners of Geography, but this is an accident of spelling. I was also intrigued to see in that same list two works by Halford Mackinder, in particular Mackinder's Democratic Ideals and Reality, a title which Marshall might have picked for his own book had it not already been taken.
Why, for starters, did the modern industrial era that helped to create all that freedom of political manoeuvre for the world's luckier people, having kicked off in Britain, then, after an imitative surge in Western Europe, then see its centre of gravity shift to the USA? Well, there are many reasons.