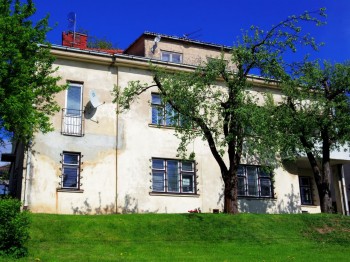 I visited the above house in Kaunas, Lithuania last month. In 1940, this house was the Japanese consulate. Kaunas functioned as the capital city of Lithuania prior to the Second World War. The Lithuanians considered Vilnius to be their rightful capital, but it was masquerading as the Polish city of Wilno at the time. Upon the German occupation of Western Poland and the Soviet occupation of Eastern Poland in late 1939, many (both Polish and Lithuanian) Jews were trapped in Lithuania and clearly in great danger, but were unable to gain exit visas to leave the Soviet Union (or travel across it by the Trans-Siberian railway) unless they had visas to go somewhere else. There were Japanese government rules stating that transit visas could be issued to Japan, but only if the applicant had plans to go somewhere else after Japan, and also that he had adequate financial resources.
Seeing the desperation of the situation, and against orders, Japanese consul Chiune Sugihara issued Japanese transit visas to anyone who asked. (In the book Bloodlands historian Timothy Snyder – who clearly finds Sugihara as fascinating a figure as I do – makes it clear that Sugihara was a Japanese spy as well as a Japanese consul, and his job was to keep track of Soviet troop movements for the Japanese government). During September 1940 he spent something like 20 hours a day writing out visas. When the consulate was closed and he had to leave, he was followed by a crowd to the railway station. As his train left, he was still throwing blank visas with his seal and signature on them to a crowd of desperate people. In total, he wrote something like 3000 visas, and as dependent family members could travel on the same visa as the principal person it was written for, those visas covered several times that number of people.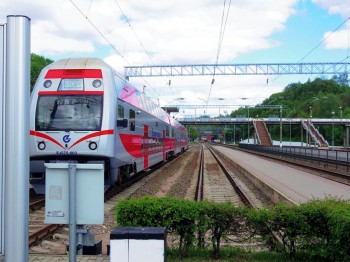 Kaunas railway station today.
Upon receiving these visas, Jews were able to travel on the Trans-Siberian railway to Vladivostok and then go by ship to Japan. They then dispersed to various places, but many were deported to Shanghai when the tripartite pact with Germany was signed shortly afterwards. Shanghai was also under Japanese occupation, and there these people spent time in the Shanghai ghetto – Restricted Sector for Stateless Refugees – where they stayed until Shanghai was liberated by the Americans in 1945. I visited the remnants of the Shanghai ghetto in 2006, and wrote about it at the time. Although this was crowded and at times squalid, it was a place of relative safety. The Japanese behaved monstrously towards certain other groups, but they had nothing against Jews, and did not turn the Jews in Shanghai over to the Germans despite German requests. Rather cleverly, Jewish leaders in Shanghai played upon Japanese mistrust of their German allies. Upon being asked by a Japanese governor why the Germans hated the Jews so much, rabbi Shimon Sholom Kalish replied "They hate us because we are short and dark haired".
Most Jews who got to Shanghai survived, and then emigrated to Israel, Australia, the US and other places after 1945. Estimates of the number of lives saved by Sugihara go as high as 10,000, although estimates of about 6,000 seem more common.
Half of the building in Kaunas is now a museum to Sugihara. I wanted to see this – it was why I went to Kaunas. The other people in the museum when I went there were a busload of Japanese tourists. Almost everyone who had signed the guest book had done so in Japanese, too. I didn't see any Lithuanians or many other Europeans, which is a shame given this extraordinary story.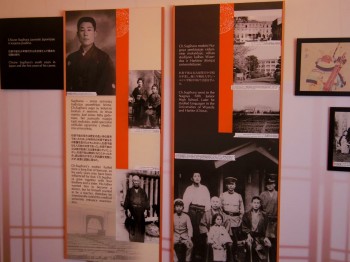 It's an exceptionally good thing that the museum is there, but I did find the tone of the museum to be slightly curious. The museum did seem to be going out of its way to present the Japanese in general in the best possible light overall, rather than simply telling the story of Sugihara. That Sugihara was acting against orders was mentioned but not emphasised, and much was made of Jews who reached Japan being treated well, but not much was said about where they went after the Japanese alliance with Germany intensified and they were deported from Japan. The truth – the Shanghai ghetto mentioned above – doesn't actually reflect too badly on the Japanese, but it is rather unfortunately connected to other things that do reflect badly on the Japanese. It is impossible to praise Sugihara himself too much – the man saved the lives of 6,000 or more people just out of basic human decency – but does this reflect well on Japan as a whole? That is harder to say. As is the case with other various people who did similar things, his story remained obscure for many years. His career with the Japanese foreign service ended after the war for reasons that may or may not have had to do with disobeying orders in Lithuania.
Eventually, Sugihara's story became widely known, and he was later honoured by Yad Vashem, the state of Israel, the state of Japan and the state of Lithuania, but this took a long time. As it did with Paul Grüninger, Oskar Schindler, and others.