I'm at least a week late with this picture (illness blah blah), but it remains one of my favourite Olympics images, snapped by one of my favourite bloggers, Mick Hartley: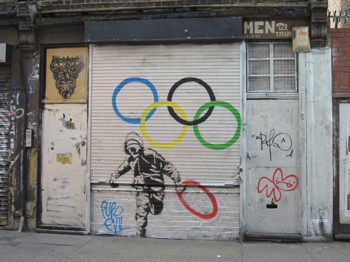 Suddenly I heard myself asking: Yes, why couldn't those damn rioters have waited until the Olympics? Not really, but I did think it. (What I really think is that rioters shouldn't. And before anyone says, it's different if all you do is call yourselves a Riot and play noisy tunes.)
But to take my question seriously, I suppose rioters can tell when they'll be allowed to run riot for a little while, and when they absolutely will not. Had they tried anything seriously wicked during the Olympics, they would have been crushed without mercy, the crushing egged on by the very people who, during and after the actual riots, were most sympathetic towards the rioters.
Interestingly, a little two-part BBC2 TV show about the riots was billed in the Radio Times to be shown just before the Olympics. But then it was postponed.