Here:
Beijing Olympics officials approached the 2008 Games as an opportunity to host the world's biggest sporting event, not to create infrastructure of permanent importance. Now Beijing is left with a post-Olympics landscape that better suits the taste of ruin porn aficionados than urban development officials. Its a story that should serve as a warning not only to London but future cities that have their sights set on investing billions into new infrastructure for a two-and-a-half week event.
I do wish people would be less free with that word "invest", when what they actually mean is "spend". But you can't blame this particular guy, for our entire Keynes-soaked culture is saturated with such confusion. The modern Olympics are a gigantic exercise in digging huge Keynesian holes, running about in them, and then filling them in.
Ruin porn pictures follow.
I'm actually a tad more optimistic about London's Olympic "infrastructure". Our Olympic clutter will cost us many arms and many legs, for little immediate benefit or longer term benefit. And presumably, in the short run, our Olympic leftovers will suffer some disrepair and delapidation. But most of it is in a part of not-outer London that will be simply too valuable to be left to rot indefinitely. Also, our media will sneer too much if what now appears to be happening in China were to happen here. In China, media sneering is, I presume, less of a problem.
My guess is that the Dome is more of a guide to what will happen to London's Olympic stuff. There was much faffing about in the immediate aftermath of the Millenium, but eventually, a meaningful use was found for it. Likewise, London Olympic remains will either be used or done away with and built over.
Meanwhile here are a couple more Olympic snaps I took recently. Both are of the Olympic rings now hanging from Tower Bridge. First, before they were swung down into place: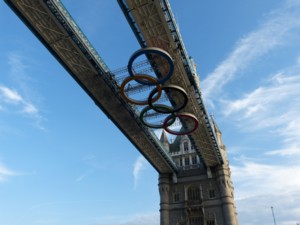 And second, after: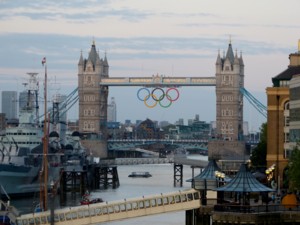 For further fun, you can enjoy a recent Chinese homage to Tower Bridge. It's twice as good as the original, because it has twice the original number of towers!