Earlier in the week I was visiting family in the old family home, the nearest railway station to which is Egham. And just outside Egham Station, I spotted this rather remarkable sign, erected (I presume) by the local council, Runnymede.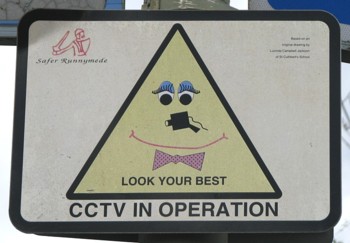 It seems that Lucinda Campbell Jackson of St Cuthbert's School (see the verbiage top right) did a really quite witty piece of art, on the theme of CCTV surveillance. But the odd bit is Runnymede Council (see the verbiage top left) – and yes that is Runnymede of Magna Carta fame – thinking that using this bit of school art on an official sign is a good way to publicise the fact that everything you do in public in Egham is being recorded on video.
For me, what this illustrates is that all those who still oppose public video surveillance in all public places in Britain (personally I am still rather undecided) have comprehensively lost this argument, insofar as it ever was an argument in the first place. These local councillors know their business. They know that, if there was any serious public opposition to ubiquitous CCTV surveillance, it would not be in their interests to make public jokes about it. As it is, they are extremely keen to advertise their enthusiasm for CCTV surveillance with a bit of humour, knowing that many will laugh, but that very few will grumble, still less complain out loud.
I mean, if you have nothing to hide, you obviously have nothing to fear. Right? Except looking badly dressed.