The invasion by Austrian Economics of the Institute of Economic Affairs continues apace, and at lunchtime today I attended this IEA event on that very timely subject staged by the Cobden Centre. The weather today has been so hot that since this meeting I could hardly stay alive and then when I had staggered home, awake, so don't expect a long and detailed report of what was said. All I really want to say here, now, is that I was greatly impressed by the two speakers, both of whom I photographed in action: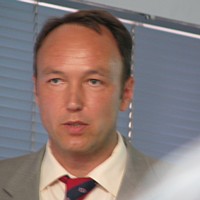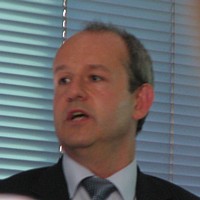 These two gentleman are, on the left, Jörg Guido Hülsmann, and on the right, Sean Corrigan. Watch out for those names. I'm fairly sure that quite a bit more is going to be heard of and from both.
The good news is that Cobden Centre Chairman Toby Baxendale asked both these two gentlemen if their performances could later be made available in written form to the Cobden Centre with a view to online publication, and both promised that they would cooperate fully with such plans.
I took other photos, including a couple of Tim Evans, the Cobden Centre's Chief Executive. In one of these snaps, Tim poses next to the IEA's evil monetarist Tim Congdon, who was present only as a picture on the wall.
Tim said that he also thought the speeches by the two gents above to be "superb". He says that about any performances he has had any part in organising no matter how average, but this time I think he meant it. And as I say, I enthusiastically concur. Judging by the response at the end from a gratifyingly crowded room, everyone else present did too.