Do not listen to the lies of those who would describe the protesters as hypocritical apologists for mass murdering fascism. Being caring, sharing people, the smiling protestors who will be marching through London to protest the visit of George Bush to Britain, will be decrying the state of unemployment in Iraq (Bush strangely seems to get no credit at all for his protectionist, anti-globalisation economic policies).
The brutal, uncaring British and American capitalists now in occupation of that hapless country have, with malice of forethought, simply thrown previously industrious workers on the scrap heap of life without the slightest concern for their well being. Hundred of highly skilled 'information retrieval' experts that were happily at work debriefing people in every city, town and village in Iraq are now reduced to pouring through the 'help wanted' add in the Guardian as they look for alternative uses for their skills with pliers, blowtorches and electricity. The management and workers in the chemical industry of that once proud nation, the people who gained world fame from the use of their products in Halabja, are almost to a man reduced to flipping burgers and slicing donner kebabs or working in Syria. Is there no end to the iniquities of global capitalism?
And so it is hardly surprising that the people who will be baying for Bush's downfall were conspicuously absent on the streets in March of 1988, when Iraqi industry was humming along rather nicely producing useful products, not to feed the evil capitalist Bushist machine, but for local use in Iraq by local Iraqi people, and who could possibly object to that?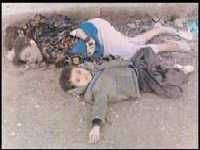 Mother and child sleeping well thanks to better science!
Products produced for the people's need, not capitalist greed
I mean, it must all be true, Michael Moore said so!