A newspaper advertisement headlined "Prostitutes Required" for a club "downstairs at The White House" has riled US officials in New Zealand. The crossed Stars and Stripes and bald eagle logo may appear to suggest the Bush administration has branched out, but the advert is in fact for a brothel in Auckland looking for new ladies for its nightclub, Monica's.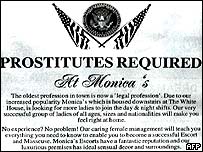 The US Embassy has sent a letter to the business complaining that the advert, especially the logo, is in poor taste.
We believe that any likeness of a national government symbol in a commercial advertisement is in extremely poor taste. We are sending a letter to the advertiser that expresses our disappointment and displeasure about their choice of symbolism.
The brothel's theme is unashamedly American and the building even has white columns outside similar to the US President's residence. During the previous US administration the women working at the complex wore blue dresses like that of former White House intern Monica Lewinsky. The bordello's owner Brian Legros was unrepentant.
They don't own the White House. They should get on with the affairs of their country and not worry about little old New Zealand…"It's my crest. "It might look like theirs, but it's not."