Recently, I wrote a piece on my own blog discussing the question of whether today's electonics products would look as clunky in 20 years as those of 20 years ago look today. My thought was that they probably wouldn't, due to the superior quality of the design of many of today's products. This spurred a rather lively follow up discussion, which particularly focused on mobile phone design. As it happened, after this discussion I discovered that I had lots more to say on both this subject and the question of just what features are and are not important to mobile phone users, and how the devices are evolving. People who read on can discover what exactly is I have to say, and will also get a bonus explanation of the meaning of this photograph of Perry.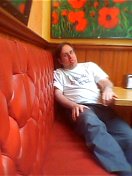 Over the last nine months, there seems to me to have been a dramatic change in the the way mobile phone manufacturers have been promoting their products. For the previous decade or so, the important issues were convenience and design. Phones became fashion accessories, and the newer ones tended to be smaller than the older ones. The most successful models were those that were as small as possible, that had an elegant design, and that were easy to use. Most people used their phones for talking and SMS messaging, but that was about all. Additional features were generally not used, and the vast majority of users did not care about them.
The company that figured this out was of course Nokia, who produced phones with beautiful design and a simple user interface, which were for their times very small. However, their most successful phones were not packed with features. One of their most successful phones was the Nokia 8210. When first released, it was the smallest phone anyone had ever seen. It was simple, elegant, and had essentially no features other than voice calls and SMS messaging. More features would make the phone bigger, and Nokia knew that was bad. As it turned out, the fashion conscious portion of the customer base, which was most of the customer base, was not interested in any features beyond this so the phone was a huge success. Although at that time there was a huge fuss made about multimedia services (generally named WAP) this was all hype and no substance, because in its early forms WAP quite simply didn't work).
Of Nokia's two main competitors up until a couple of years ago, Motorola made technically advanced phones which were packed with features and hard to use, and Ericsson made technologically advanced phones which were ugly. Neither of these strategies were especially successful, although Motorola was dominant in the market segment of "business users wanting feature rich phones that worked throughout the world". Unfortunately for them, this didn't turn out to be the most lucrative segment of the market for the phone manufacturers. Although these users spent a lot of money on their phone bills, this money went to the network operators, and although they bought phones with an expensive retail price, these phones were also expensive to make. Plus, these users didn't upgrade quite as often as the more fashion conscious.
Which was where we were a couple of years ago. If you had the smallest Nokia, it meant you were with it. If you had some other clunkier looking phone, or you had a phone of any kind that was physically larger, it meant you were not with it. Nokia built an amazing brand. The brand was so successful that people actually believed that Nokia were a company delivering great engineering as well. (I have a female friend who until recently had a Nokia phone because Nokia were obviously the best. However, this phone would not work in the US. Therefore, when she went to the US she had to borrow a Motorola from someone else. Despite this, when I told her that Nokia phones were generally less technically advanced than their competitors, she flat refused to believe me, despite the fact that her Nokia was not adequate for her own personal use).
However, two things have since changed. Firstly, as Eldan pointed out in the comments to my previous post, phones had reached the point where they were about as small as they could get. The Nokia 8210 and its ilk were fine if you had small fingers (which in practice often meant if you were a teenager or were female, or both), but for many people a slightly larger phone was better. Even for people with small fingers, an even smaller phone would not be useful. Secondly, Nokia's competitors started to catch up with respect to size and design and the number of competitors in the market increased.
Last year I twice needed to get a new mobile phone, in the first case because my phone stopped working, and in the second because my phone was stolen. In both cases I was not able to get a handset subsidy on a new phone, and as I am presently in a situation where I have to be careful with my money I went looking for phones that were cheap and functional. In the middle of the year, the cheapest possible phone looked like this: it weighed 149 grams, and was 132 mm long: sufficiently large and clunky that it was slightly embarassing to pull it out of my pocket amongst a group of young people with cooler phones. At the end of the year, the cheapest possible phone looked like this: small, and quite elegant (105mm and 95 grams). When I pull it out of my pocket, people sometimes ask what it is, but there is no embarassment factor at all. (In fact, Sendo are a British company, and this is an interesting talking point about the phone). The user interface is quite nice, too. The phone can be bought outright without a subsidy for 40 pounds. If Sendo can sell me a phone for this price, it becomes clear just how large Nokia's margins must occasionally be, given that they can sell phones for six or seven times the price.
Clearly, other manufacturers (even low end manufacturers) are catching up with Nokia in terms of design, which is potentially very bad for Nokia. Commoditisation appears imminent. So what happens?
Well, the terms of the battle change. Rather than competition being principally about design, we suddenly start competing on features. Colour screens become a big deal. Rather than just a small number of GSM phones being tri-band and working in both Europe and North America, this feature is becoming standard, and even Nokia feel they need to offer it. Most importantly, for the first time since widespread use of SMS, it seems that there appear to be new features that mobile phone users want to use. Rather than competing on who can offer the best form factor, the form factor is settled and we are competing on who can offer the best feature set in that form factor.
As for what features are being added to phones, it seems to be a matter of what other gadgets can be merged into a mobile phone without affecting the form factor. Many of us would find a digital camera a useful thing to carry around with us, but not to such an extent that we would go to the trouble of placing it in our pocket every morning. However, merge it into our mobile phone that we are going to carry around anyway, and then suddenly we have it with us all the time and it is worth paying a little extra for the phone. One application of such cameras is for photographing what we are seeing and sending it to your friends as a way of describing how you are feeling – that is as an extension of the SMS experience. Another is simply whatever you would use a non-phone digital camera for. See something that is worth photographing, and you can take a picture. This is particularly useful if you are a blogger with a tendency to write about what you see from day to day. For instance, if you are sitting in a bar with Gabriel Syme and Perry de Havilland, you can get Gabriel to take a silly photo of Perry for later use. (Sadly, Gabriel had the camera and thus I do not have any photos of the marvel of humanity that is Gabriel. There were also some photos which show that I am much better looking than Perry, but alas Gabriel has not forwarded them to me).
Similarly, although the number of people who regularly carry a GameBoy around with them is relatively small, the number of people who would play games if they were bored and found themselves with one is quite large. At least some mobile phones have had a few simple games built into them for some years now – Nokia were again the innovator – but the types of games that can be played has been improved dramatically with the addition of higher resolution colour screens, as this New York Times article from last week discusses. (Link via slashdot). Plus, more sophisticated data capabilities on the phone network (plus more commonality in phone operating systems) make the download of new games possible. Ultimately we will also be playing networked games.
The impact of these trends has become quite dramatic in the design of new phones that have been released this year. Most notably, we have the latest state of the art Nokia phone that the company is selling to its best customers: the Nokia 7250. This phone is something that 18 months ago would have been almost oxymoronic: a feature packed Nokia phone. Tri-band GPRS. Colour screen. Built in camera. Downloadable games. And a partridge in a pear tree.
While still small, the phone is significantly larger and heavier than the previous couple of generations of flagship Nokia phones. (105mm, 92g – very close to the same as my 40 pound Sendo, and compared to 101mm and 79 g for the Nokia 8210). The mobile phone companies are no longer really competing on size, although there is some competition on form factor (some companies seem to prefer flip phones). What we instead have is a single pocket size electronic device that most of us will carry around with us at all times. This will be configurable with respect to colour and shape, but its size and form factor are now essentially settled (until some really compelling new application that is worth paying for with some inconvenience in terms of size comes along, anyway). What this device will be doing for the next few years is slowly sucking in new features.
(It is also interesting to observe that Nokia really does appear to realise that the race is now about features. It introduced its new form factor with the 7210 late last year, and has since introduced new phones with the same form factor but more features twice: firstly the 7250 and now the 7250i. It wasn't long ago that upgrades like this were purely cosmetic. Now they are very feature oriented).
And just as a final aside, does this mean that the much vaunted "3G" mobile phones are now with us? Well, on the whole, no. The additional data speeds that 3G makes possible are only really necessary for real time interactive applications: video streaming and the like. Where the data being sent is either low bandwidth or non-realtime, the data speeds possible from existing 2G networks are more than adequate. The four companies with 2G networks in the UK are offering all these new services without the expensive business of building their 3G networks, although they continue to pay large sums of money to the government for the right to do so. A fifth company, Hutchison Telecom (trading under the stupid name '3') has rolled out a 3G network. At the moment, it is selling one service that the other networks are not offering, which is video telephone calls. However, demand for video telephone calls appears to be small, as AT&T discovered in the 1970s when it spent immense amounts of money developing the technology for fixed line phones. Hutchison have very few customers. (They also have the disadvantage of not being able to offer the most popular mobile handsets, which are still being made for the much larger 2G market. The compelling application for 3G is not here yet. My best guess is that it may arrive with networked multi-user games, but this is still some time off).
In any event, as someone who is much more feature oriented than appearance oriented, I find that for the first time in several years I am looking at mobile phones and getting a serious case of geek envy. I want one of these.