lib·er·ty n. pl. lib·er·ties
a. The condition of being free from restriction or control.
b. The right and power to act, believe, or express oneself in a manner of one's own choosing.
c. The condition of being physically and legally free from confinement, servitude, or forced labor. See Synonyms at freedom.

Freedom from unjust or undue governmental control.

A right or immunity to engage in certain actions without control or interference: the liberties protected by the Bill of Rights.
Like some undead zombie in B-grade horror movie, we have pumped the hideous thing full of lead from our rifles and shotguns… it falls riddled with logical holes and yet somehow the creature staggers to its feet again with bits falling off, lurching forward once more.
Gauche is clinging remorselessly to the term 'Libertarian Socialism'
But I'm still an enthusiast for egalitarian self-managed market socialism; and I still want the state to leave us all alone as much as possible. My big difference with libertarians of the right is that my ideal minimal state concentrates not on maintenance of property rights and defence of the realm but on redistribution of incomes and wealth to provide basic needs to everyone as of right (citizen's income and free healthcare, education and housing) so we can all get on with whatever we want. And OK, I know that's utopian. But so what?
Well on one point I am in complete agreement with Gauche… his view is utopian. In fact, the notion that a state which redistributes wealth by force and provides 'education' to its citizens can be a minimal state is more than just utopian, it is fantastical. Wage control? Nationalised healthcare? Nationalised education? Nationalised housing? And how, exactly, would this be different to the non-libertarian modern socialist (i.e. social democratic) states found all over the western world?
The answer is it is exactly the same thing. The only liberty in Gauche's libertarianism is the liberty to take the money of others by force without prior consent and to run the economy on political, rather than social, interaction.
Sure, there is a long history of people calling themselves libertarians. But so what? Liberty means not having one's life under the force backed direction of others… socialism means using force backed politics to direct people's life in accordance with socialist political ends. The two are antithetical.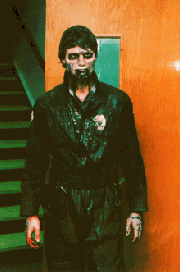 Arrrggg… I'm a…libertarian…too!