I read of Strom Thurmond's demise at the ripe old age of a century and it sent me digging madly through an old trunk for this most memorable magazine photo of his 1970 visit to my alma mater: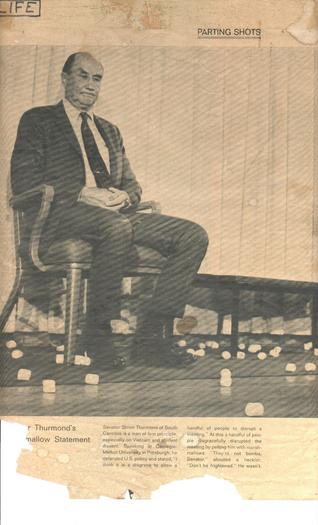 This was at the hieght of the Viet-nam anti-war movement at CMU and Pitt and students of those universities formed a coalition of the willing to pepper the good Senator with Marshmallows.
My guerilla theatre troop later used the deadly Cluster Marshmallow against the Pittsburgh Federal Building with equally devastating results. One of the troop told me a checkout clerk at the grocery store asked him, "What Senator is in town this week?", when he purchased the case of them for our "event".
Oh the Horror! The Horror… and the memories. God it was fun!